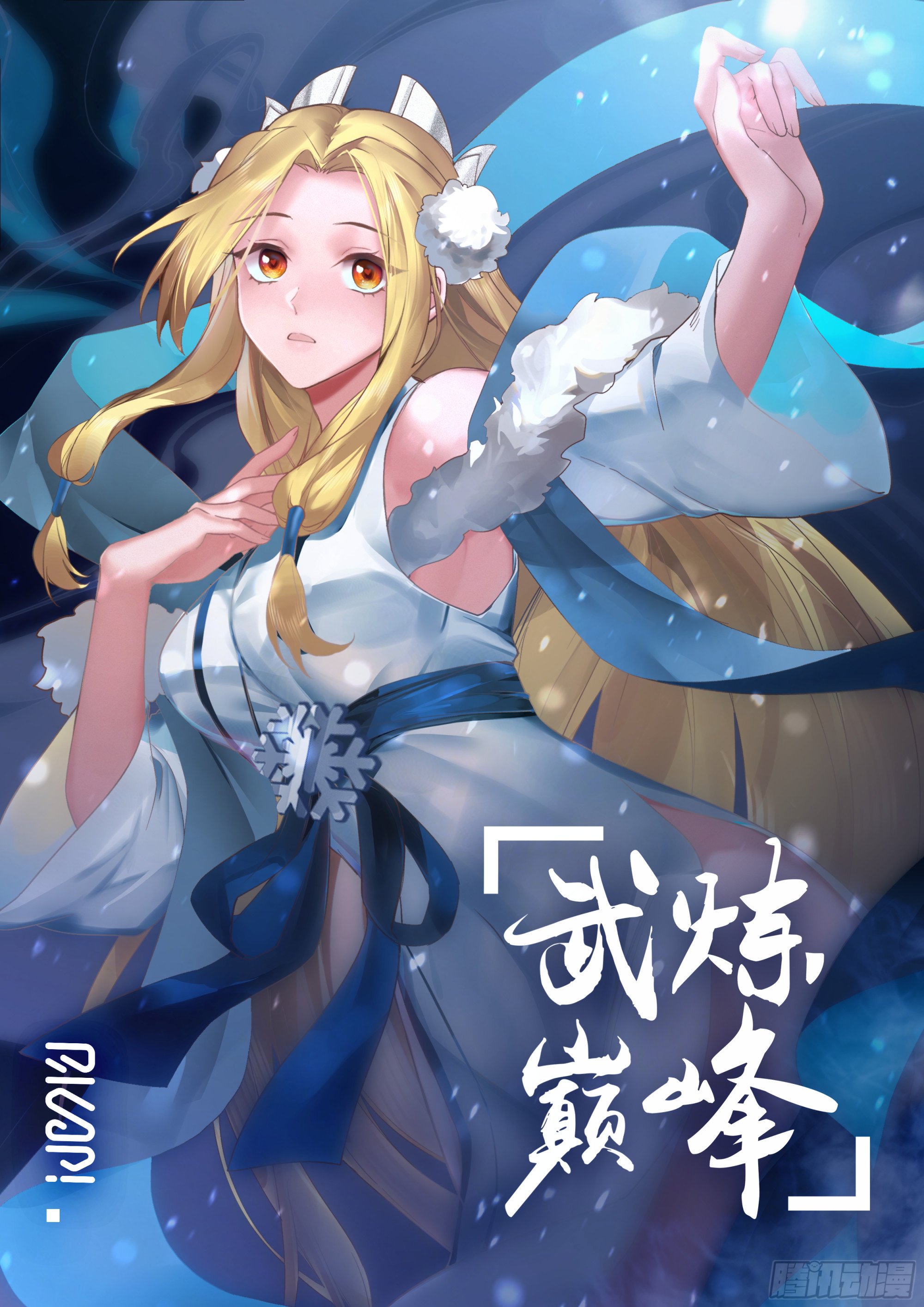 Wu Roast Shi Feng

Tencent Jiyunman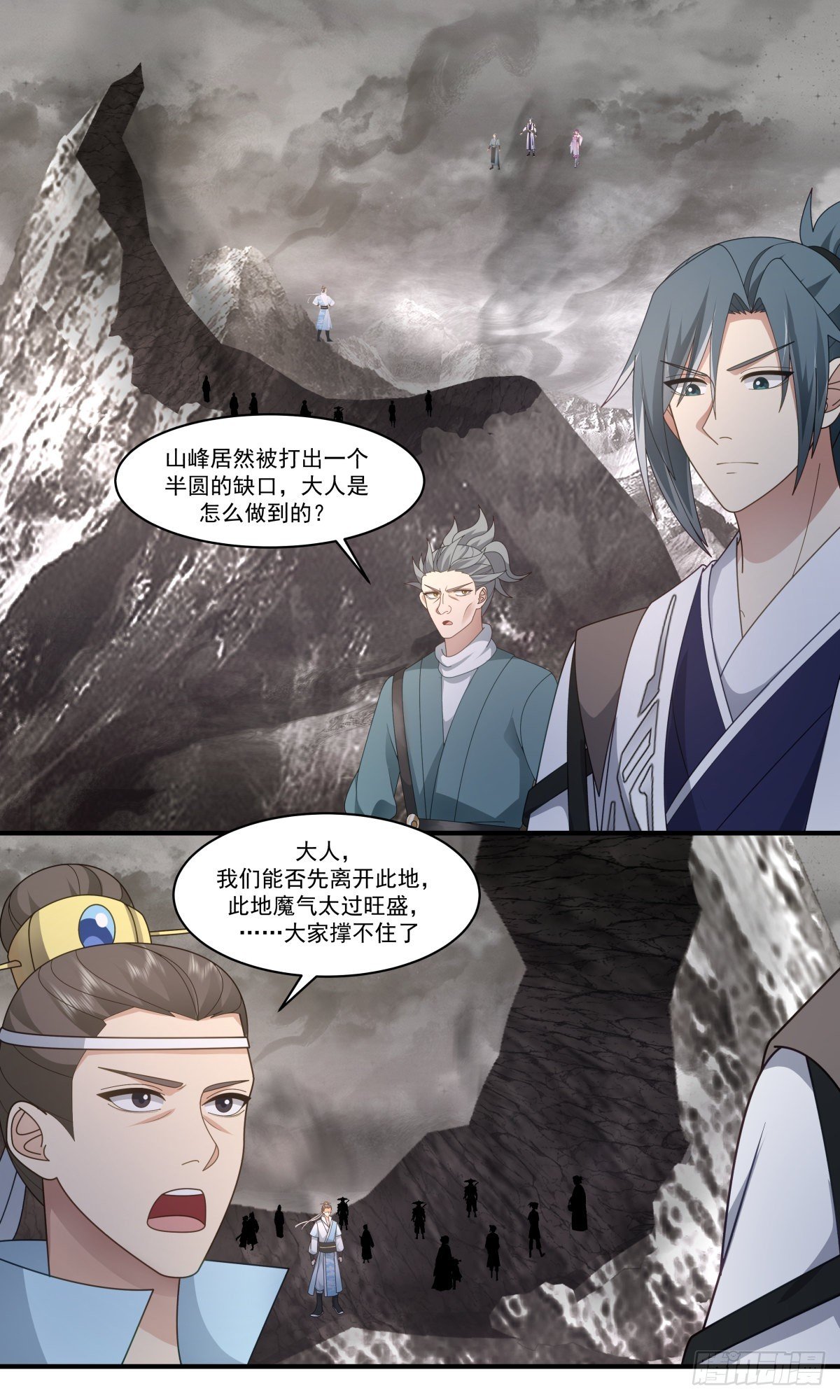 The mountain peak was actually punched with a semi-circle gap. How did the adults do it?

grown ups,

Can we leave this place first, the demonic energy here is too strong, everyone can't hold it anymore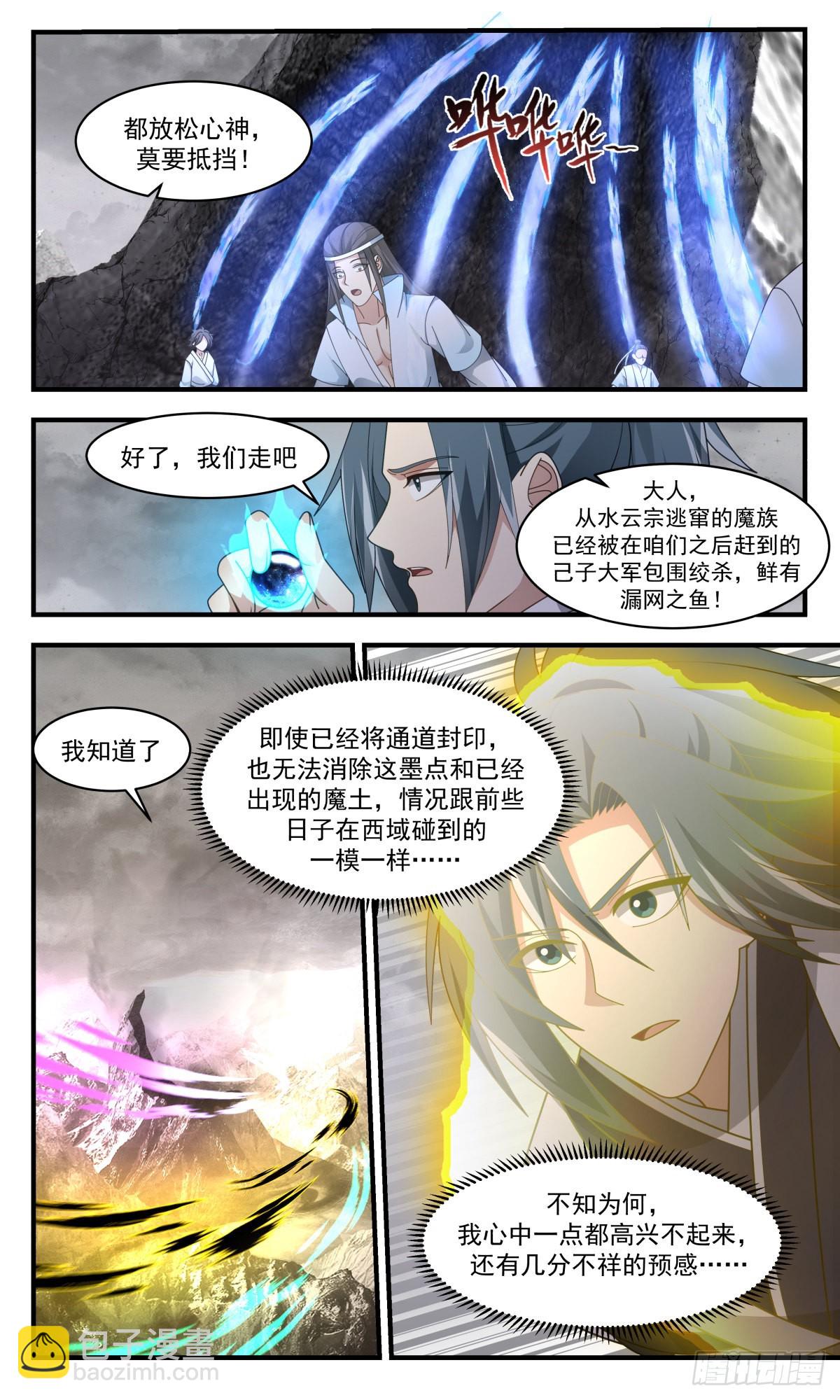 Just relax and don't resist!

ok let's go

My lord, the demons who fled from Shuiyunzong have been surrounded and strangled by the army of their own sons who arrived after us, and few fish slip through the net!

Even if the passage has been sealed, this ink spot and the demon soil that has appeared cannot be eliminated. The situation is exactly the same as what I encountered in the Western Regions a few days ago.

I see

Do not know why,

I'm not happy at all and have a bit of an ominous premonition.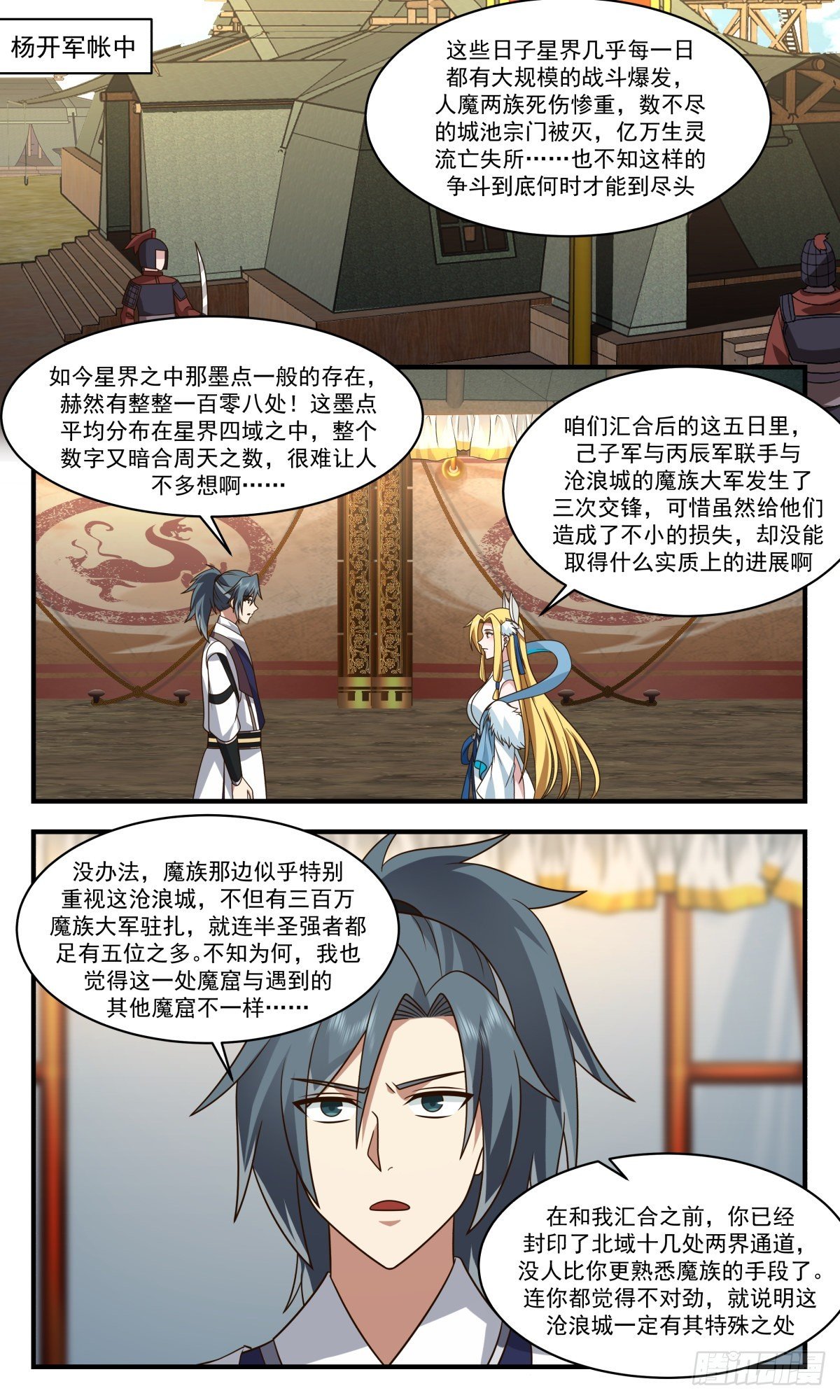 Yang Kai's army tent

These days, large-scale battles have erupted almost every day in the astral world. Human and demons have suffered heavy casualties. Countless cities and sects have been destroyed. Hundreds of millions of souls have been exiled.

Now there are a hundred and eight of that black dot-like existence in the star realm! The ink dots are evenly distributed among the four regions of the astral world, and the whole number coincides with the number of the heavens.

In the five days since our reunion, the Jizi Army and the Bingchen Army have teamed up with the demon army in Canglang City to have three confrontations. It's a pity that although they have suffered a lot of losses, they have not been able to make any substantial progress.

Don't think too much

No way, the Demon Race seems to attach great importance to this Canglang City. Not only is there an army of three million Demon Races stationed, but there are as many as five semi-sacred powerhouses. For some reason, I also feel that this cave is different from other caves I have encountered.

Before meeting with me, you have sealed more than a dozen passages between the two realms in the Northern Territory. No one is more familiar with the methods of the demons than you. Even you think something is wrong, which means that there must be something special about this Canglang City.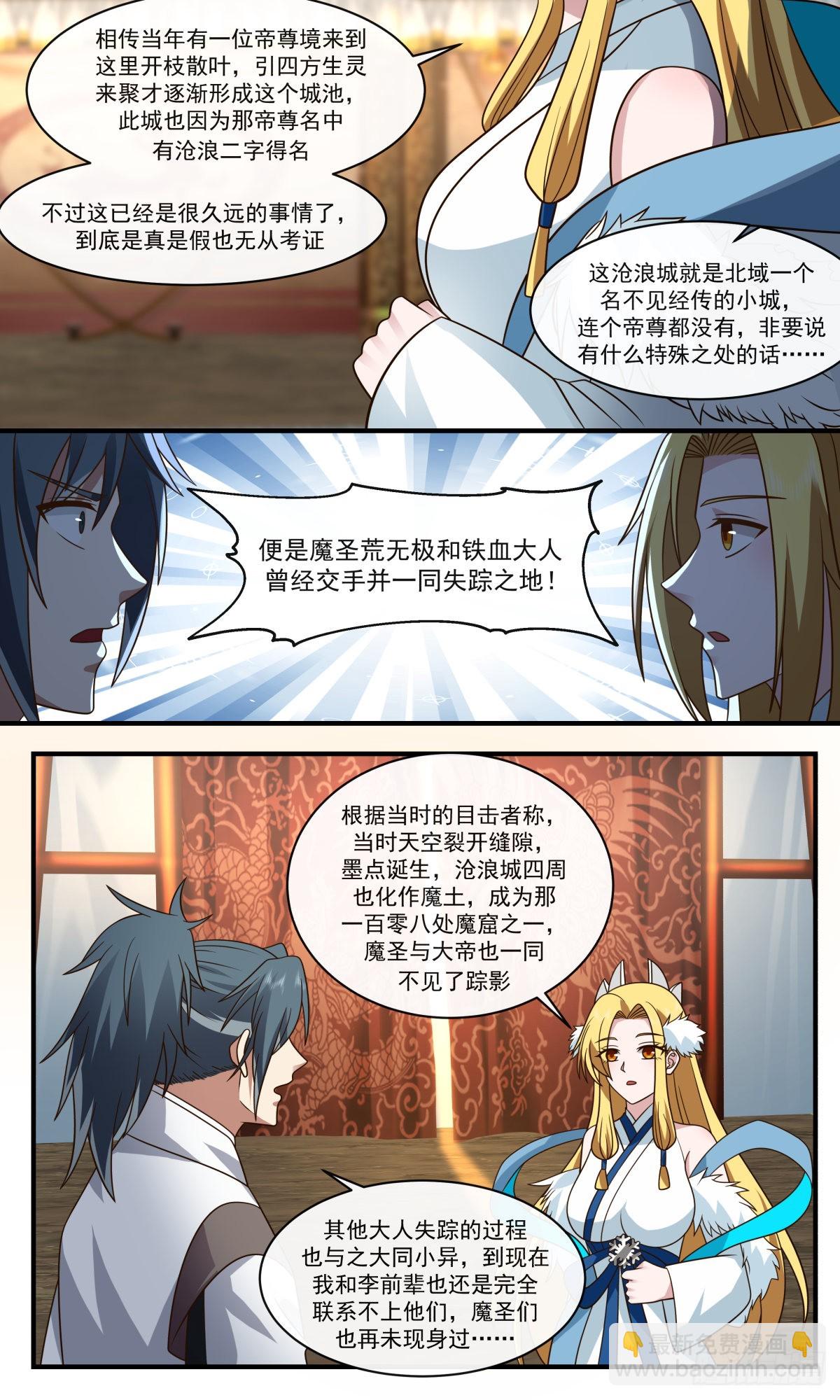 相传当年有一位帝尊境来到这里开枝散叶,引四方生灵来聚才逐渐形成这个城池,此城也因为那帝尊名中有沧浪二字得名

不过这已经是很久远的事情了到底是真是假也无从考证

这沧浪城就是北域一个名不见经传的小城连个帝尊都没有,非要说有什么特殊之处的话…·

N

便是魔圣荒无极和铁血大人曾经交手并一同失踪之地!

根据当时的目击者称,当时天空裂开缝隙墨点诞生,沧浪城四周也化作魔土,成为那百零八处魔窟之一魔圣与大帝也一同不见了踪影

其他大人失踪的过程也与之大同小异,到现在我和李前辈也还是完全联系不上他们,魔圣们也再未现身过.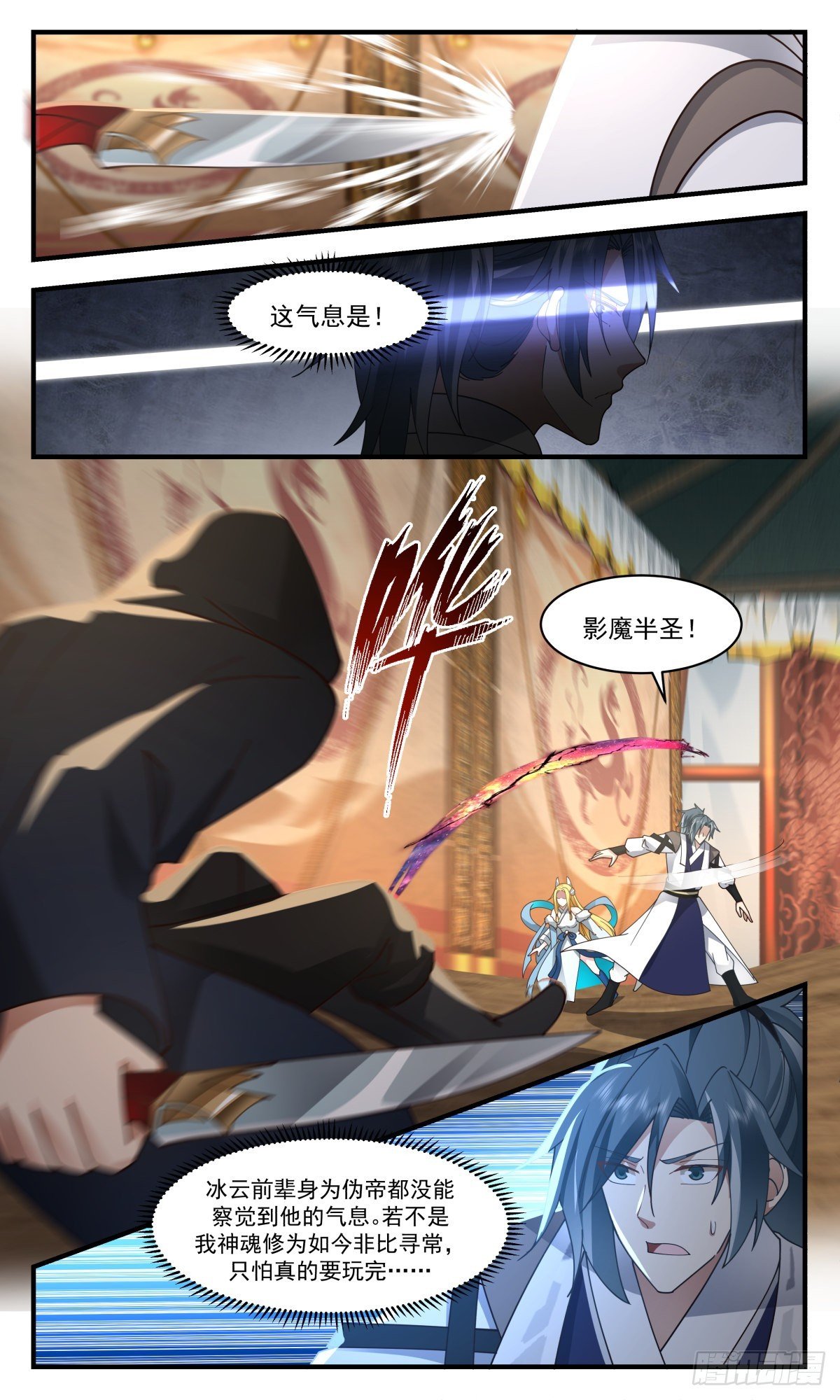 这气息是!

影魔半圣!

冰云前辈身为伪帝都没能察觉到他的气息。若不是我神魂修为如今非比寻常,只怕真的要玩完·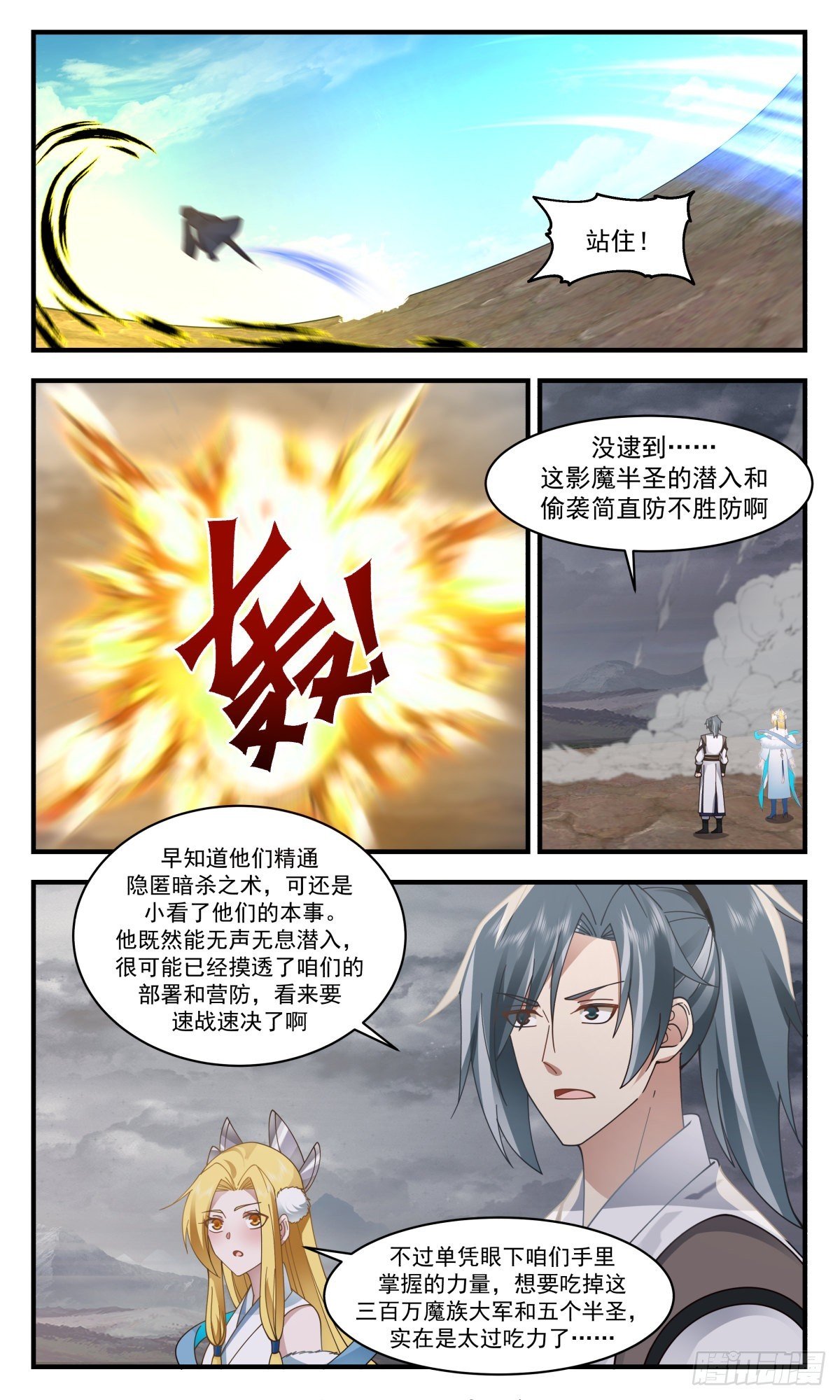 站住!

没速到这影魔半圣的潜入和偷袭简直防不胜防啊

早知道他们精通隐匿暗杀之术,可还是小看了他们的本事。他既然能无声无息潜入很可能已经摸透了咱们的部署和营防,看来要速战速决了啊

不过单凭眼下咱们手里掌握的力量,想要吃掉这三百万魔族大军和五个半圣实在是太过吃力了·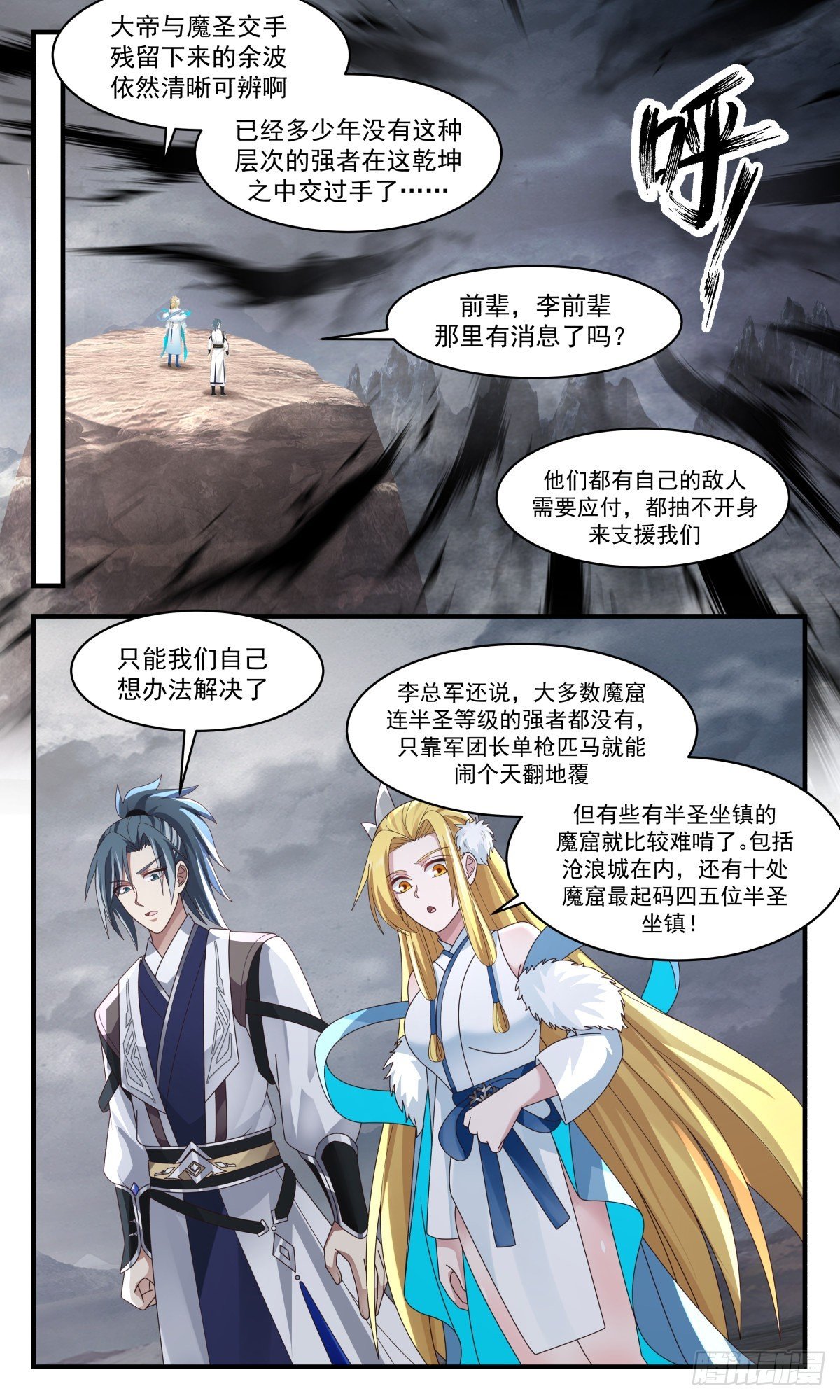 大帝与魔圣交手残留下来的余波依然清晰可辨啊

已经多少年没有这种层次的强者在这乾坤之中交过手了

前辈,李前辈那里有消息了吗?

他们都有自己的敌人需要应付,都抽不开身来支援我们

只能我们自己想办法解决了

李总军还说,大多数魔窟连半圣等级的强者都没有只靠军团长单枪匹马就能闹个天翻地覆

但有些有半圣坐镇的魔窟就比较难啃了。包括沧浪城在内,还有十处魔窟最起码四五位半圣

坐镇!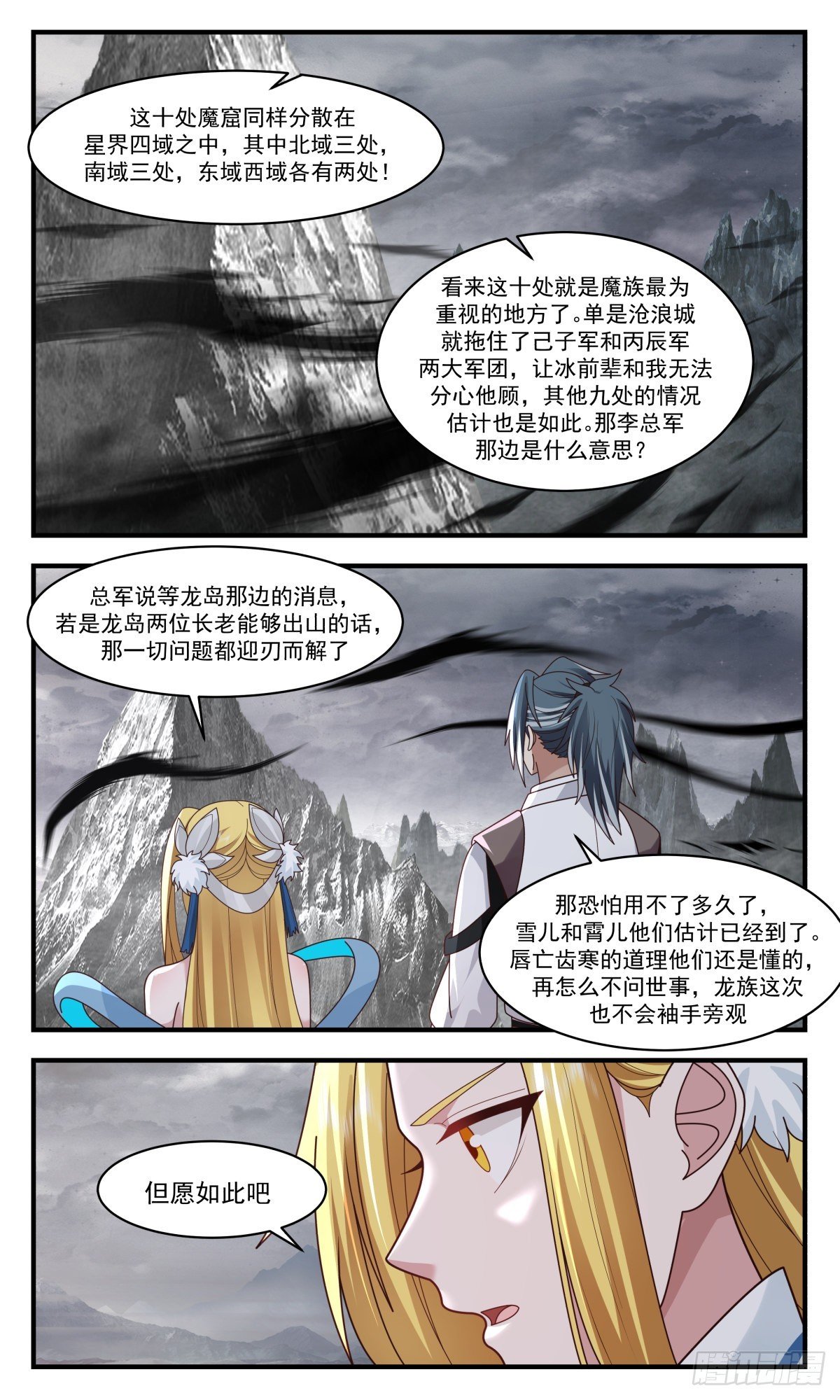 这十处魔窟同样分散在星界四域之中,其中北域三处南域三处,东域西域各有两处!

看来这十处就是魔族最为重视的地方了。单是沧浪城就拖住了己子军和丙辰军两大军团,让冰前辈和我无法分心他顾,其他九处的情况估计也是如此。那李总军那边是什么意思?

总军说等龙岛那边的消息若是龙岛两位长老能够出山的话那一切问题都迎刃而解了

那恐怕用不了多久了,雪儿和霄儿他们估计已经到了。唇亡齿寒的道理他们还是懂的再怎么不问世事,龙族这次也不会袖手旁观

但愿如此吧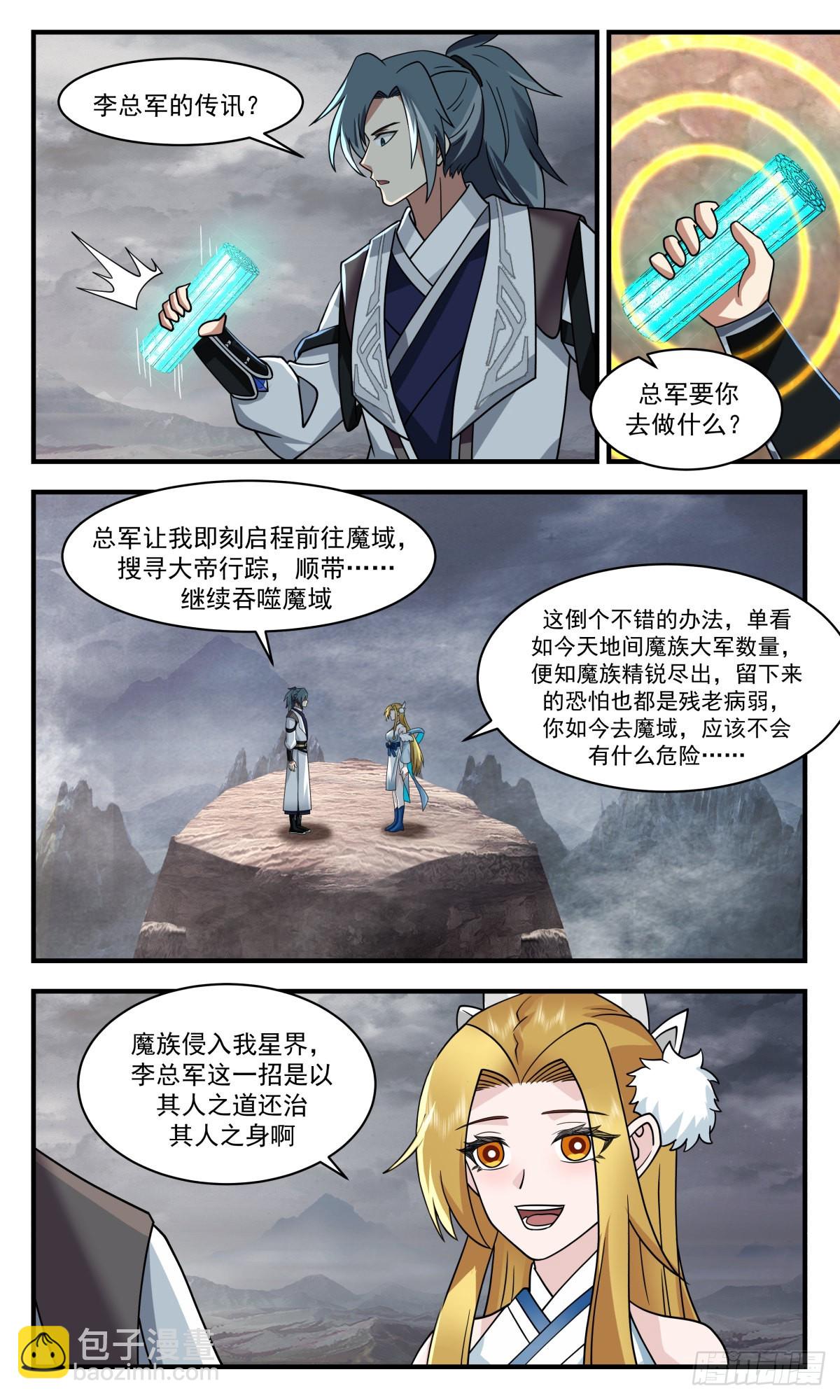 李总军的传讯?

What does the army want you to do?

The general army asked me to immediately set off for the Demon Realm, search for the whereabouts of the Great Emperor, and continue to devour the Demon Realm by the way.

..

This is quite a good way. Just looking at the number of demons in the world today, you can see that the elites of the demons are all out, and the ones who stay are probably the old and the sick. If you go to the demon realm now, there should be no danger…

The demons invaded my astral world, Mr. Li's move is to use his own way to repay his own body.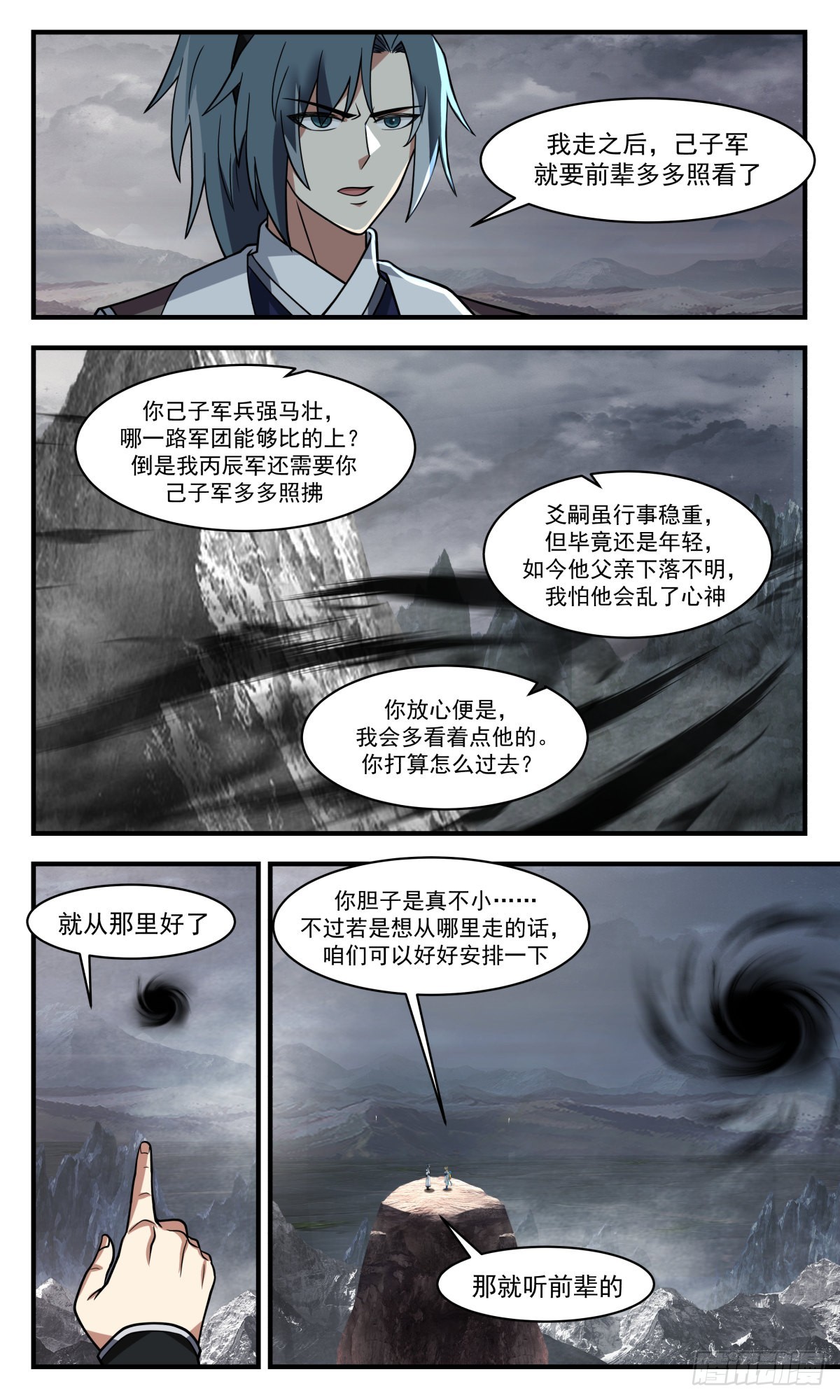 After I leave, my son's army will ask the seniors to take care of them.

Your own son's army is strong and strong, which legion can compare? On the contrary, my Bingchen army still needs a lot of care from your already subordinate army.

Although Jiao Si acts prudently, he is still young after all. Now his father's whereabouts are unknown. I am afraid that he will lose his mind.

Don't worry, I'll watch him more. How are you going to get there?

You are really brave… But if you want to go from there, we can make arrangements

from there

Then listen to the elders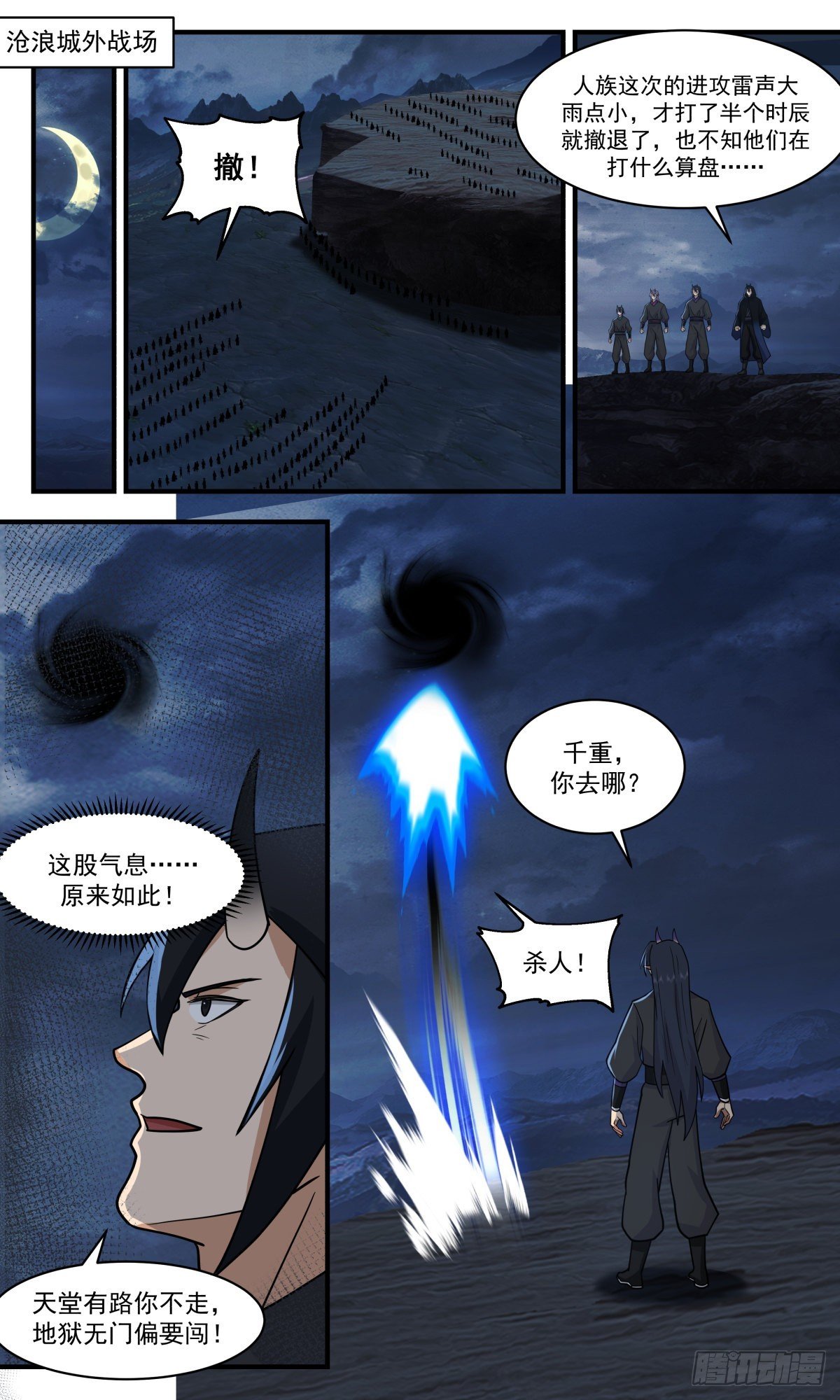 Battlefield outside Canglang City

The human race's attack this time was thunderous and rainy, and they retreated after only half an hour. I don't know what they were planning.

withdraw!

Qianzhong, where are you going?

This breath is exactly what it is!

kill!

Heaven has a way, you don't go through hell, but you have to go through it!

spring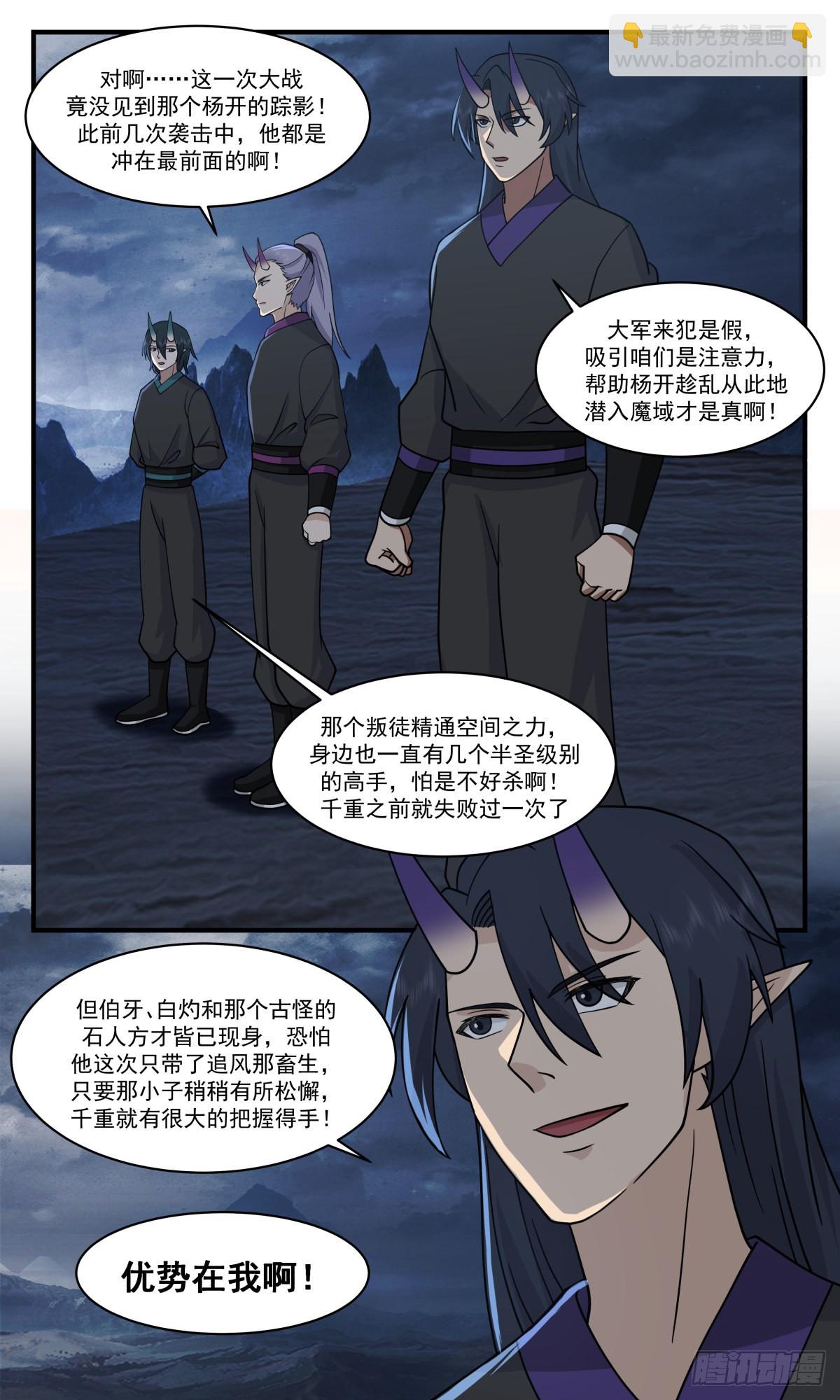 Yes, I didn't see the trace of Yang Kai in this battle! In the previous attacks, he was at the forefront!

It is false that the army came to commit crimes, it is to attract our attention, and it is true to help Yang Kai sneak into the Demon Realm from this place while the chaos is here!

That traitor is proficient in the power of space, and there have always been a few semi-holy-level masters around, I am afraid it is not easy to kill! Thousands failed once before

But Boya, Bai Zhuo, and the strange stone man have all appeared just now. I am afraid that this time he only brought the beast Chasing Feng. As long as the boy relaxes a little, Qianzhong will have a great grasp of it!

The advantage is mine!

spring news