That…Yang Kai, I want to act alone

Is it because the four people share too little power?

No, just?….I can feel that this Sea of ​​Broken Stars is a reborn place for me, and there is an opportunity waiting for me somewhere! i want to see

She is now at the pinnacle of Daoyuan Realm, and if she has such a feeling at this critical critical point, it is very likely that there is really some chance waiting for her.

If you can really break through Shuan Kai here and be promoted to Emperor Senior Realm, source crystal is essential.

Miss Hua, you're welcome

don't move

mouth

Yang Kai, thank you, you are the best person in the world for me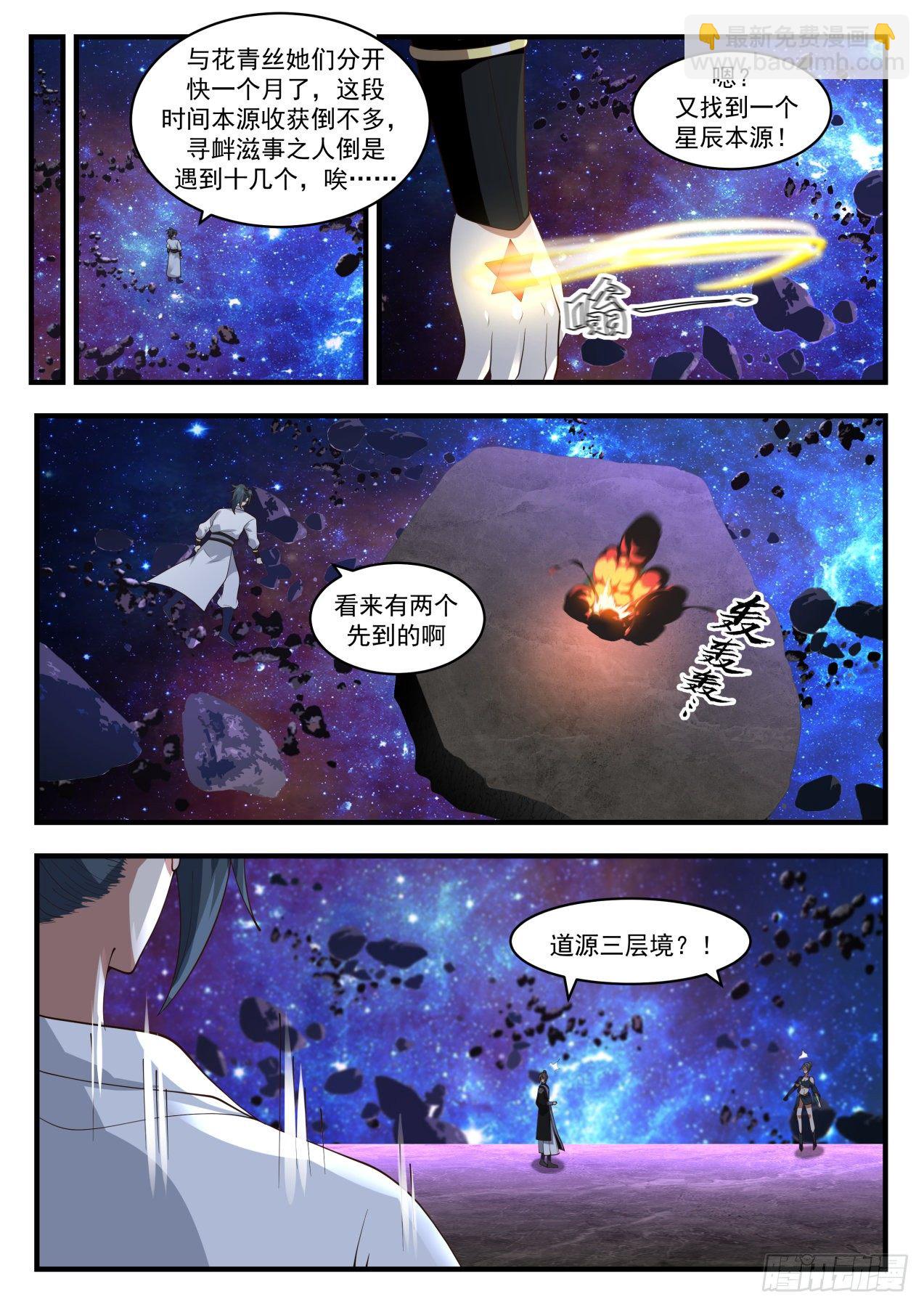 It's been almost a month since they were separated from Hua Qingsi. During this time, the source of the harvest is not much, but there are more than a dozen people who are looking for trouble, throat?

Um? Found another star source!

It looks like there are two coming first.

Daoyuan third-layer?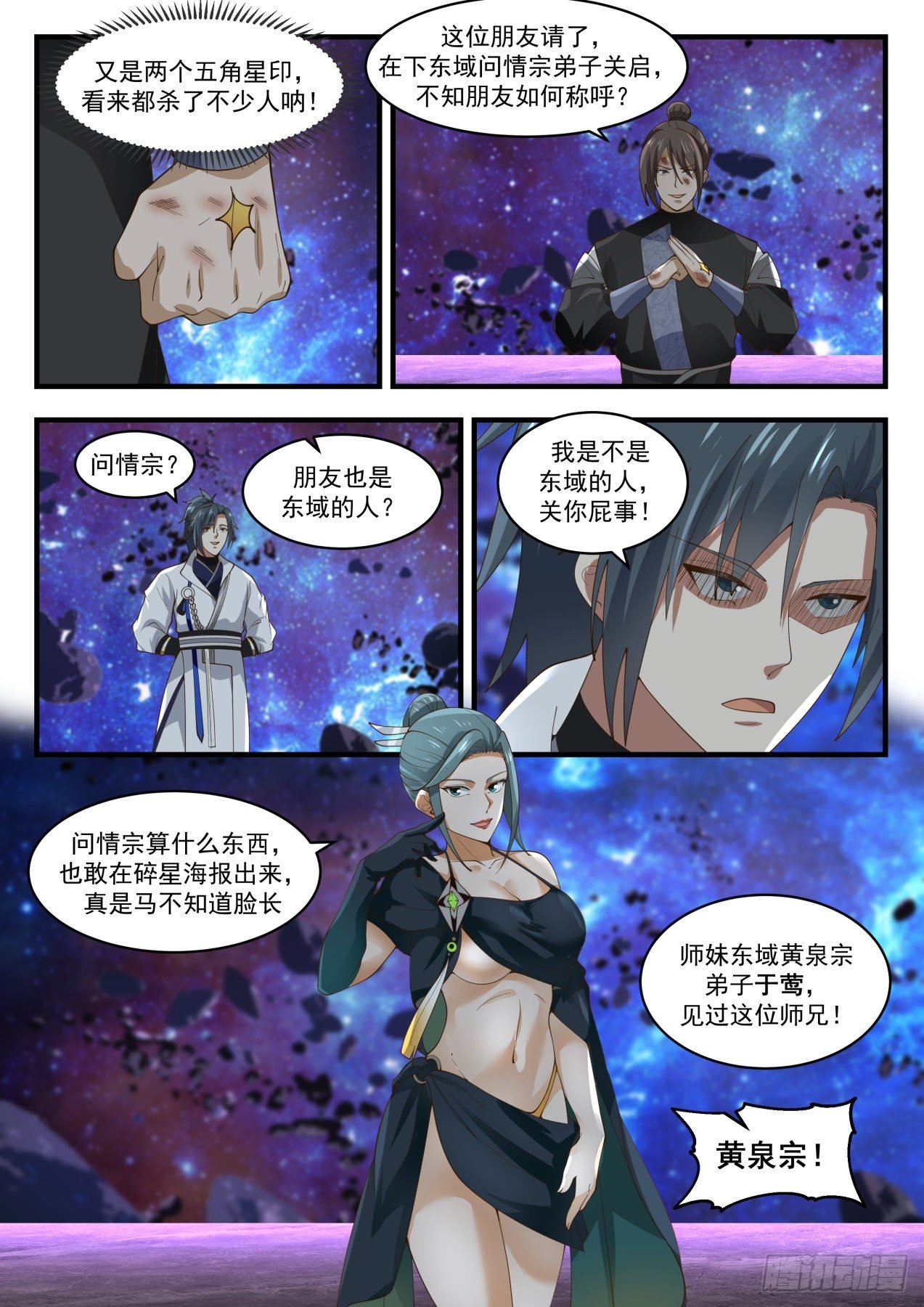 This friend invited me to ask Guan Qi, a disciple of Qingzong, in the Lower Eastern Region. I don't know what to call my friend?

There are two five-pointed star seals again, it seems that they have killed a lot of people!

It's none of your business whether I'm from the Eastern Region or not!

Ask Qingzong?

Friends are also from the East Region?

Ask Qingzong what kind of thing, and dare to show it on the poster of Broken Star, really don't know how long his face is

Junior sister Yu Ying, a disciple of Huangquan Sect in the Eastern Region, has seen this senior!

Huang Quanzong!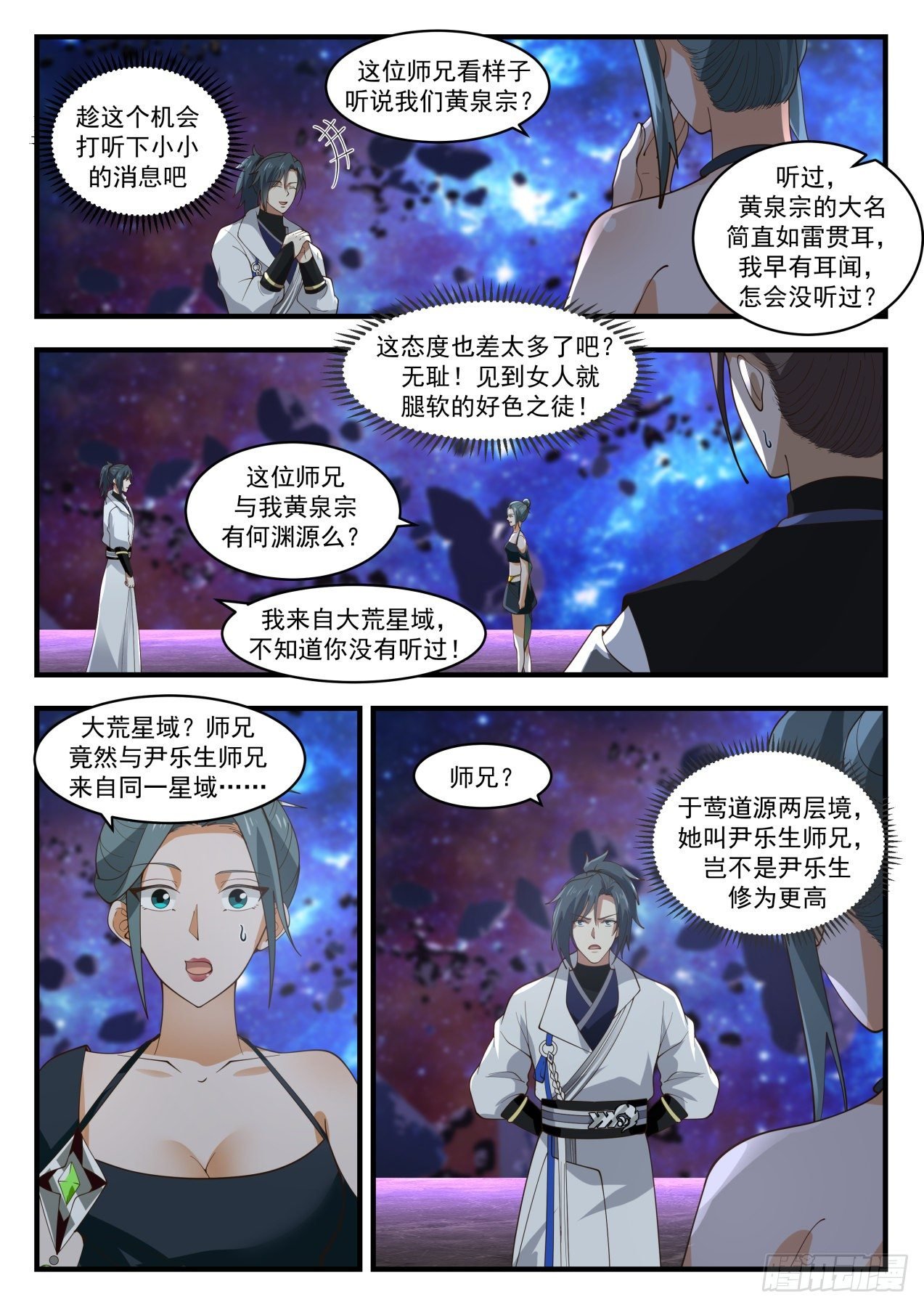 This senior seems to have heard of our Huang Quan Sect?

Take this opportunity to inquire about a little news

I've heard it before, Huang Quanzong's name is like thunder, I've heard it before, why haven't I heard it?

Is this attitude too much? Shameless! A womanizer with soft legs when she sees a woman!

What is the relationship between this senior and me, Huang Quan Zong? I'm from the Great Desolate Star Region, I don't know if you haven't heard of it!

Great Desolate Star Territory? Brother Yin Lesheng is actually from the same star region…

Brother?

于莺道源两层境,她叫尹乐生师兄岂不是尹乐生修为更高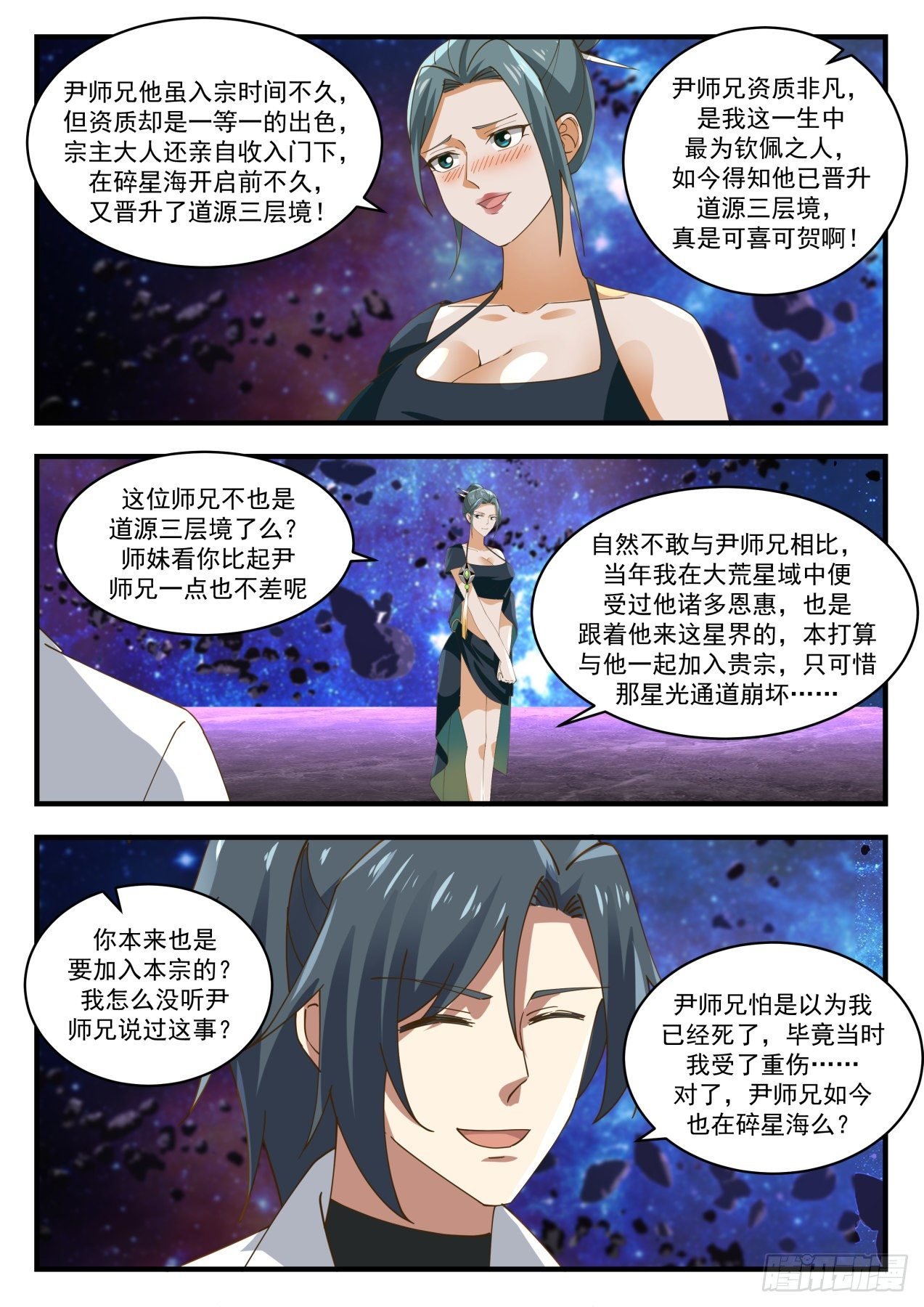 尹师兄他虽入宗时间不久但资质却是一等一的出色宗主大人还亲自收入门下,在碎星海开启前不久,又普升了道源三层境!

尹师兄资质非凡是我这一生中最为钦佩之人,如今得知他已晋升道源三层境,真是可喜可贺啊!

这位师兄不也是道源三层境了么?师妹看你比起尹师兄一点也不差呢

自然不敢与尹师兄相比,当年我在大荒星域中便受过他诸多恩惠,也是跟着他来这星界的,本打算与他一起加入贵宗,只可惜那星光通道崩坏?··

你本来也是要加入本宗的?我怎么没听尹师兄说过这事?

尹师兄怕是以为我已经死了,毕竟当时我受了重伤…...对了,尹师兄如今也在碎星海么?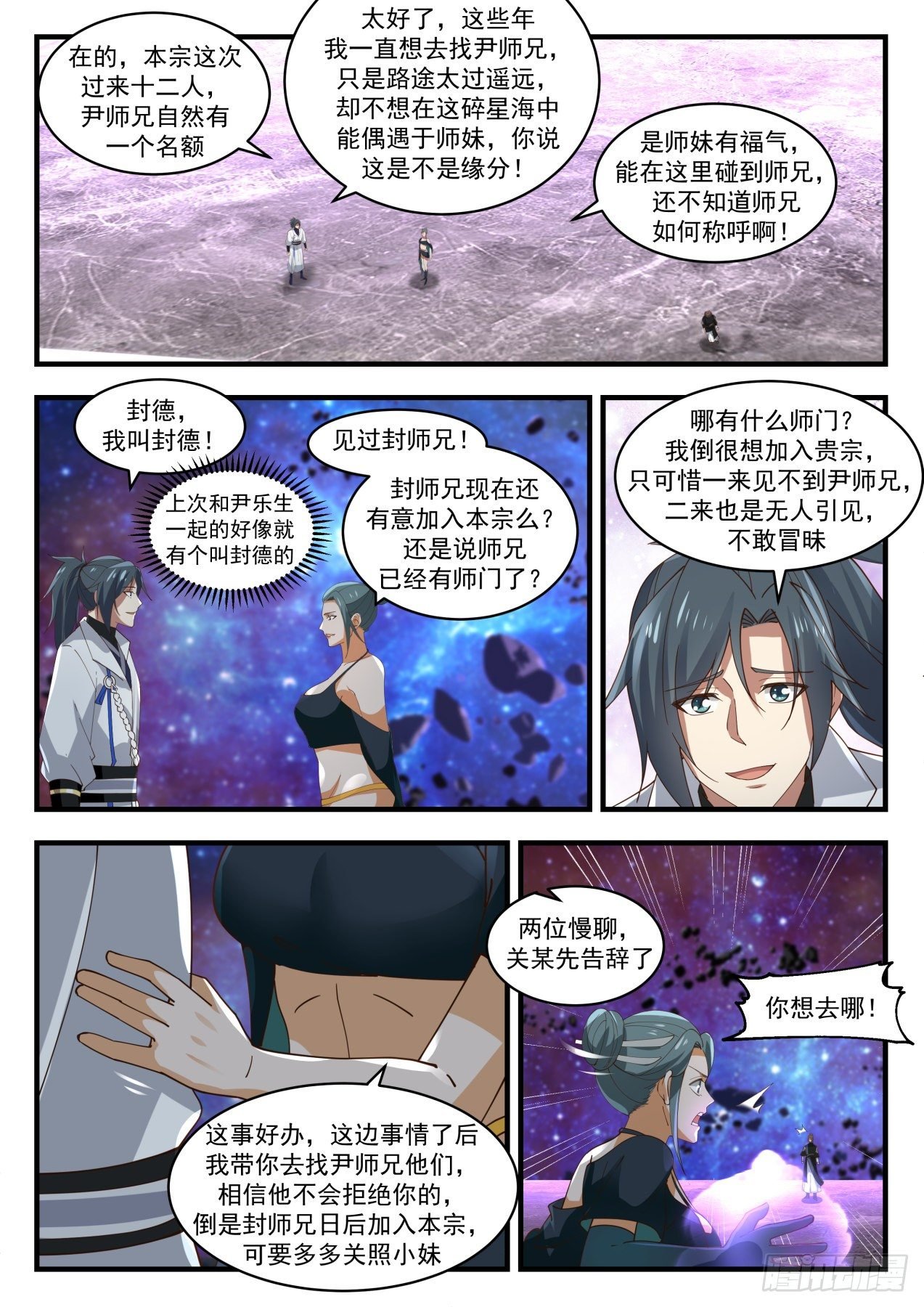 太好了,这些年我一直想去找尹师兄,只是路途太过遥远,却不想在这碎星海中能偶遇于师妹,你说这是不是缘分!

在的,本宗这次过来十二人,尹师兄自然有个名额

是师妹有福气,能在这里碰到师兄,还不知道师兄如何称呼啊!

封德,我叫封德!

哪有什么师门?我倒很想加入贵宗只可惜一来见不到尹师兄二来也是无人引见,不敢冒昧

见过封师兄!封师兄现在还有意加入本宗么?还是说师兄已经有师门了!

上次和尹乐生一起的好像就有个叫封德的

两位慢聊,关某先告辞了

你想去哪!

这事好办,这边事情了后我带你去找尹师兄他们,相信他不会拒绝你的,倒是封师兄日后加入本宗可要多多关照小妹

封师兄···这人欺负我你也不管管!

呵呵,小子,敢欺负于师妹你真是活的不耐烦了

喉,为了小小,只能出卖色相了

这位封兄,这本源可是我先发现的,这位姑娘却要抢夺,这才打了起来

如今她没有受伤,这本源关某也不要了,只想就此离去,还请朋友成全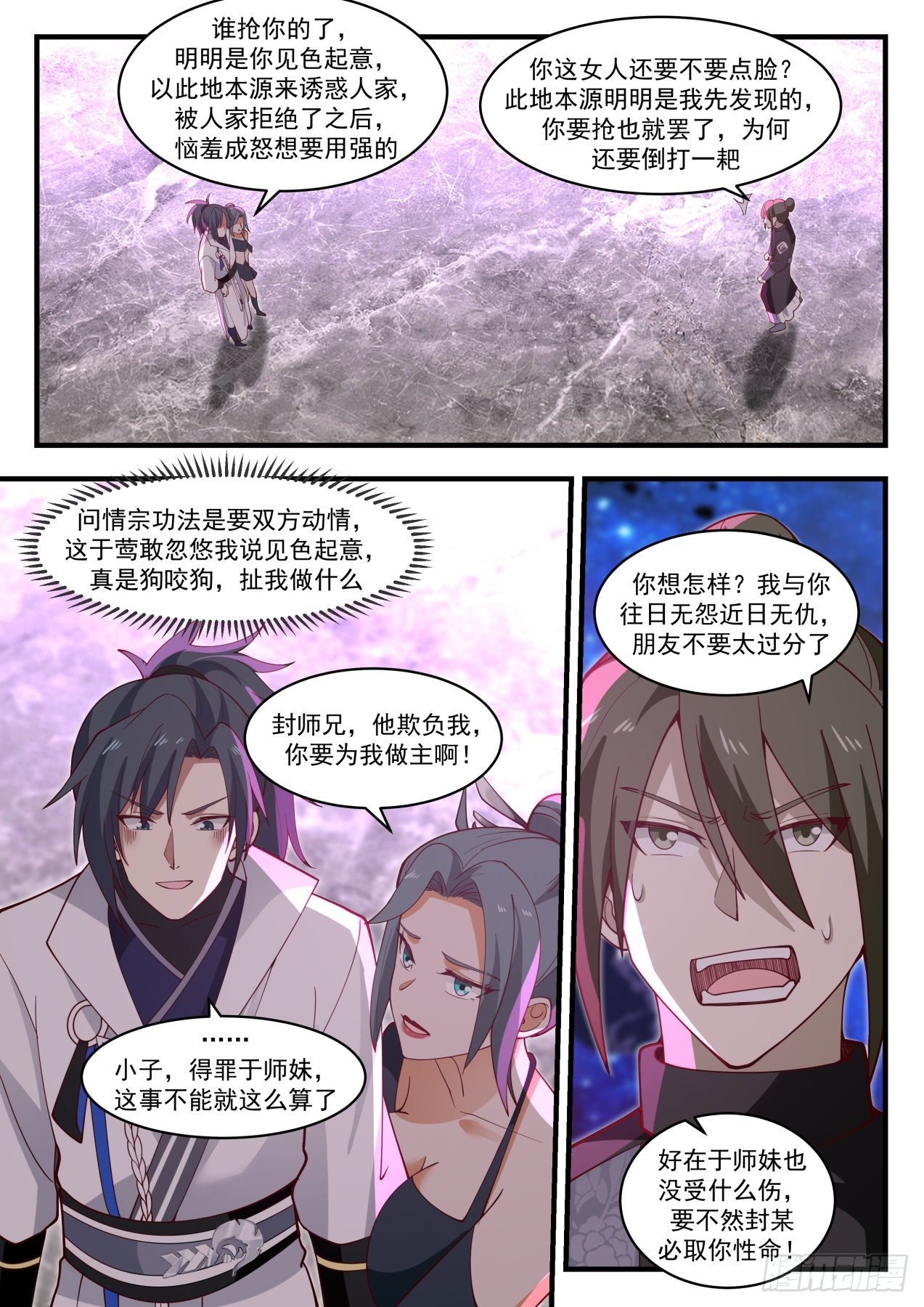 谁抢你的了,明明是你见色起意,以此地本源来诱惑人家,被人家拒绝了之后,恼羞成怒想要用强的

你这女人还要不要点脸?此地本源明明是我先发现的,你要抢也就罢了,为何还要倒打一耙

问情宗功法是要双方动情,这于莺敢忽悠我说见色起意真是狗咬狗,扯我做什么

你想怎样?我与你往日无怨近日无仇,朋友不要太过分了

封师兄,他欺负我你要为我做主啊!

Boy, offend junior sister, this can't be left alone

The good thing is that the junior sister didn't suffer any injuries, otherwise Feng Mou will take your life!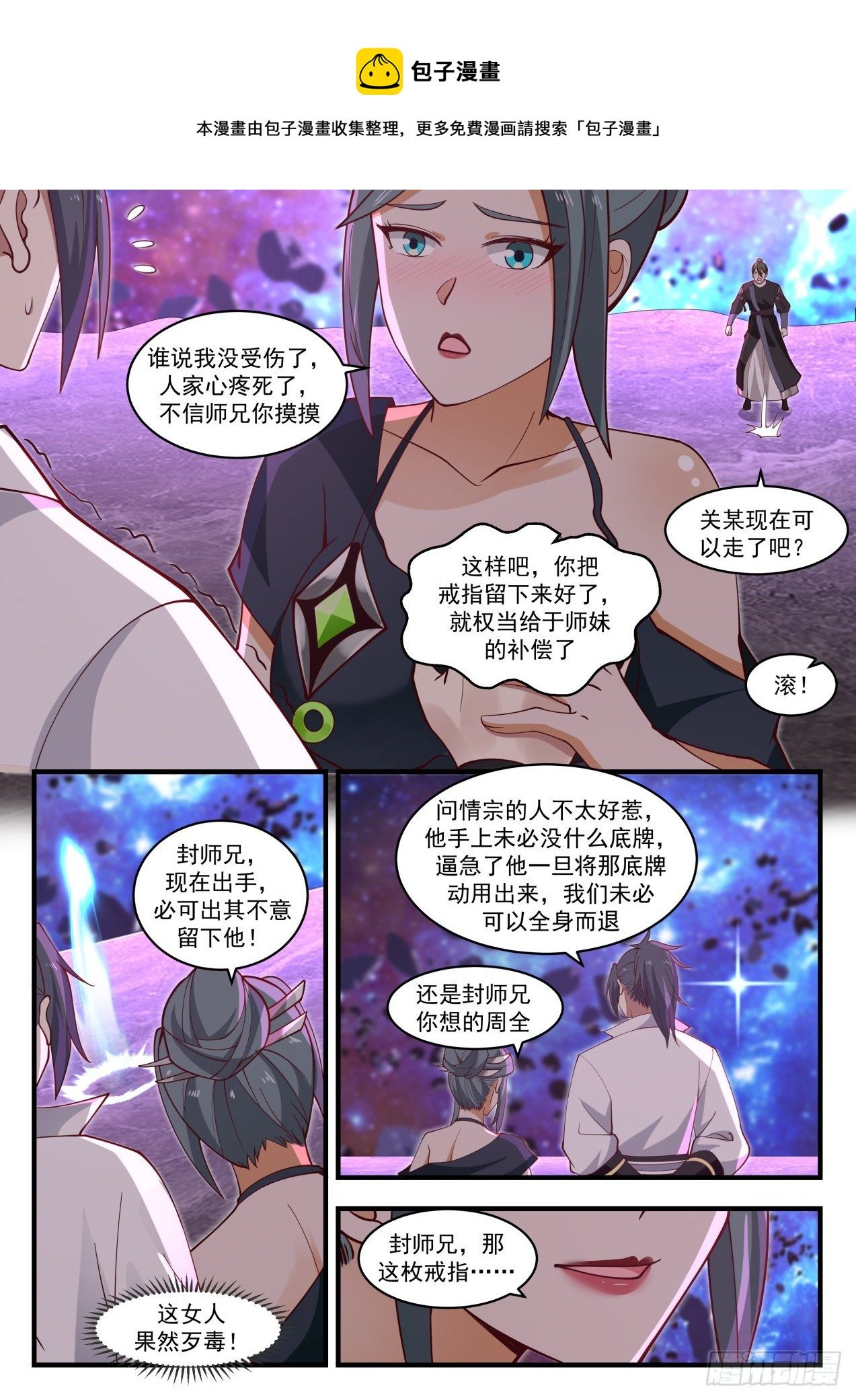 Brother Feng

You are alone in it

Sister, I will accompany you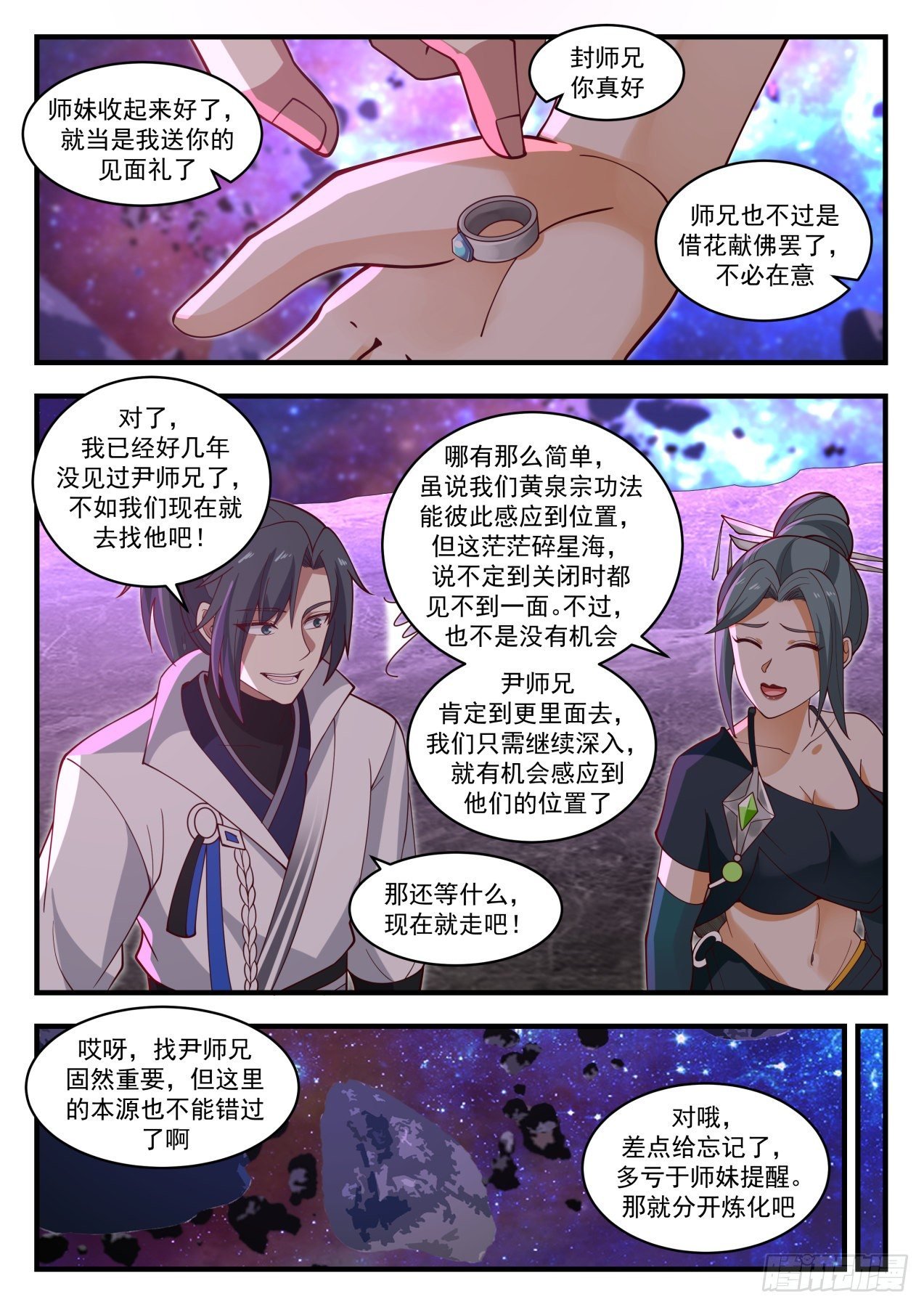 Brother Feng, you are so kind

Junior sister put it away, just treat it as a greeting gift from me

Senior brother is just borrowing flowers to offer Buddha, don't worry about it

By the way, I haven't seen Senior Brother Yin for several years, why don't we go find him now!

How can it be so simple, although our Huang Quan Zong exercises can sense each other's position, but this vast sea of ​​​​stars may not be seen when it is closed. But it's not that there is no chance for Senior Brother Yin to go inside. We just need to continue to go deeper, and we will have a chance to sense their position.

So what are you waiting for, go now!

Oops, it is important to find Senior Brother Yin, but the origin here cannot be missed.

Oh yes, I almost forgot it thanks to the reminder from my junior sister. Then refine it separately.

ah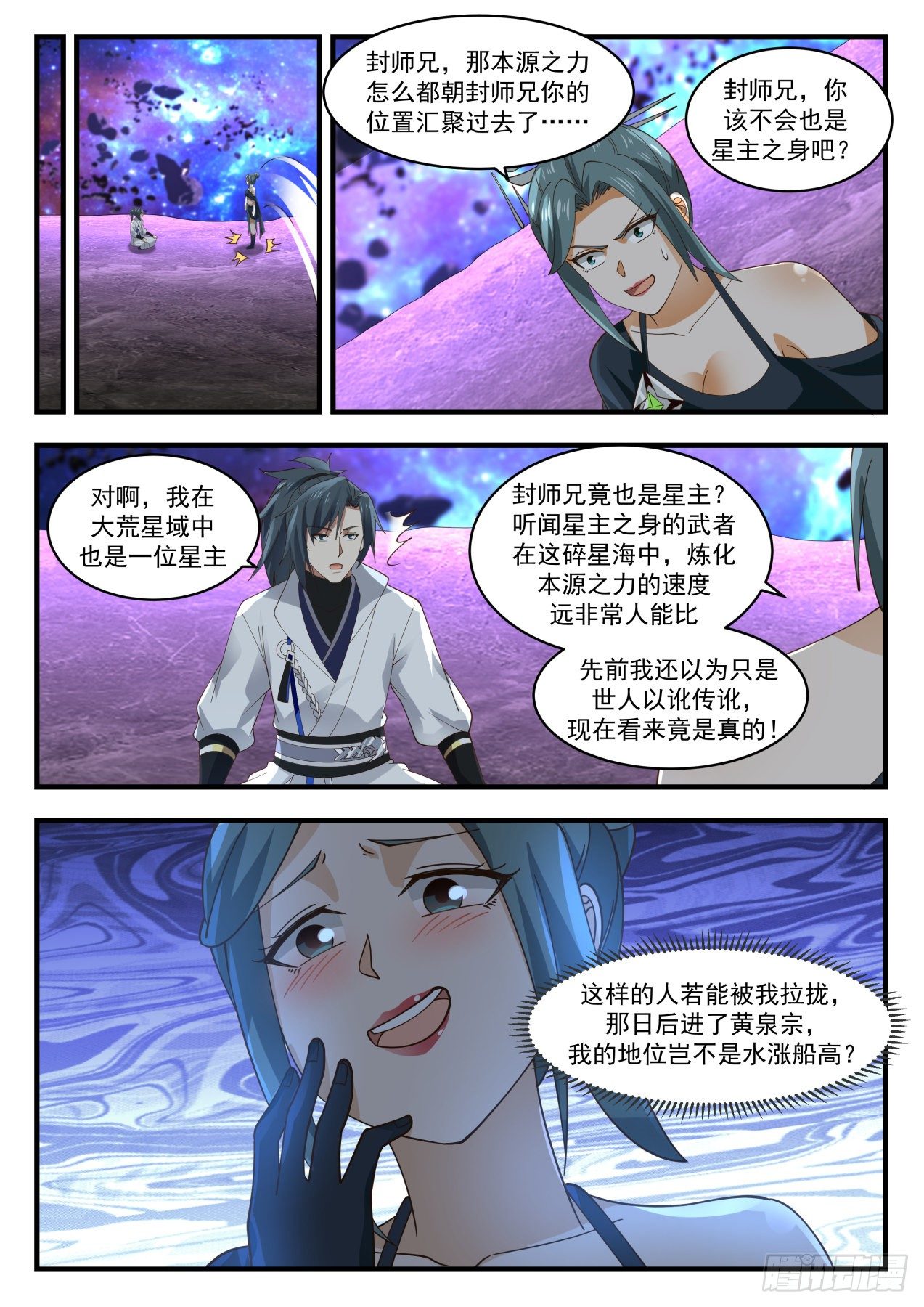 Senior Brother Feng, how come the power of the source has gathered towards your position, Senior Brother Feng…

Senior Brother Feng, are you also a star master?

Yes, I am also a star master in the Great Desolate Star Territory

Senior Brother Feng is also a star master? I heard that the martial artist who is the star master in this sea of ​​broken stars, the speed of refining the power of the source is far more than human beings. I thought it was just a legend from the world, but now it seems to be true!

If such a person can be drawn by me, and then enter the Yellow Springs Sect, wouldn't my status rise with water?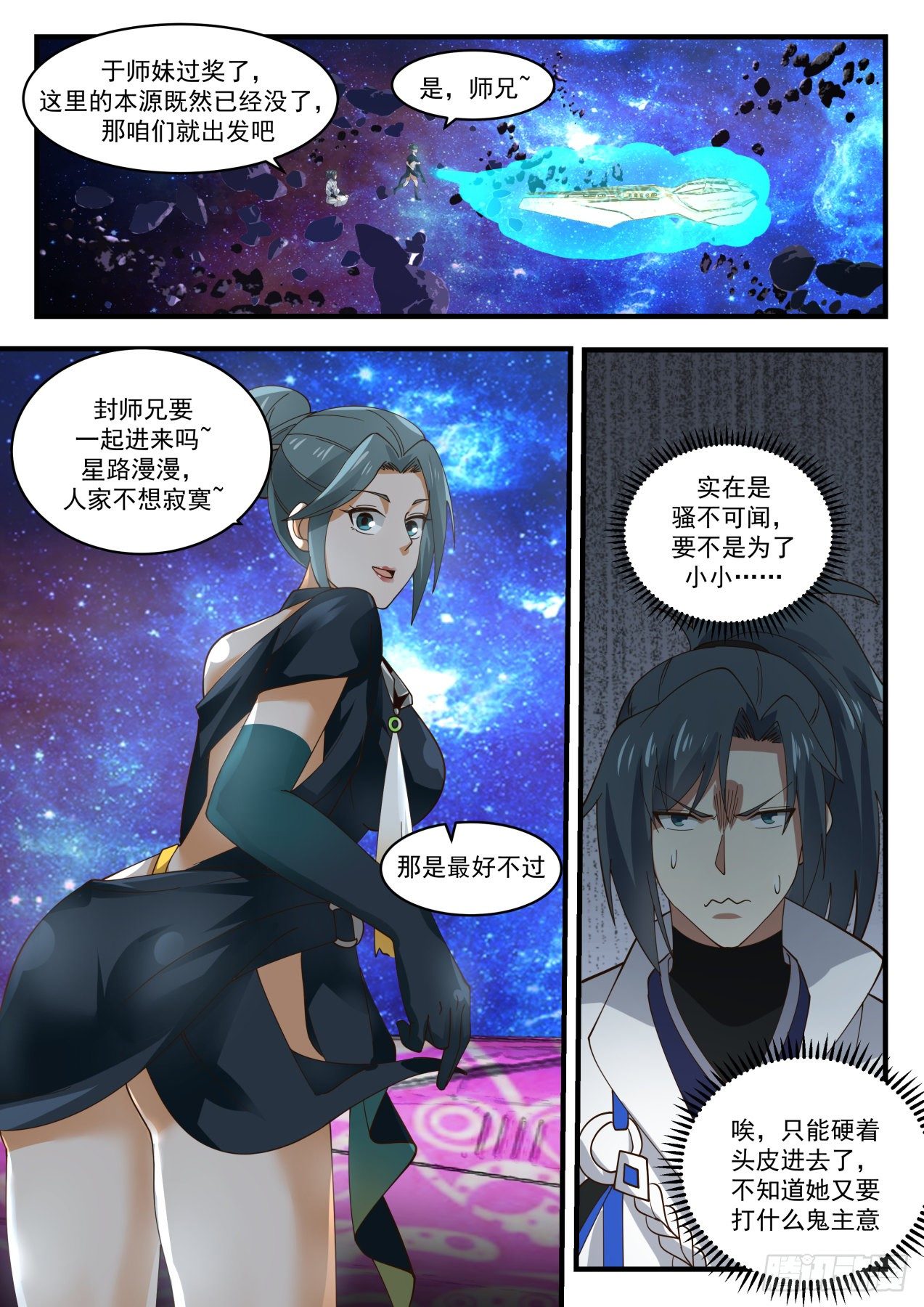 Sister Yu has won the award,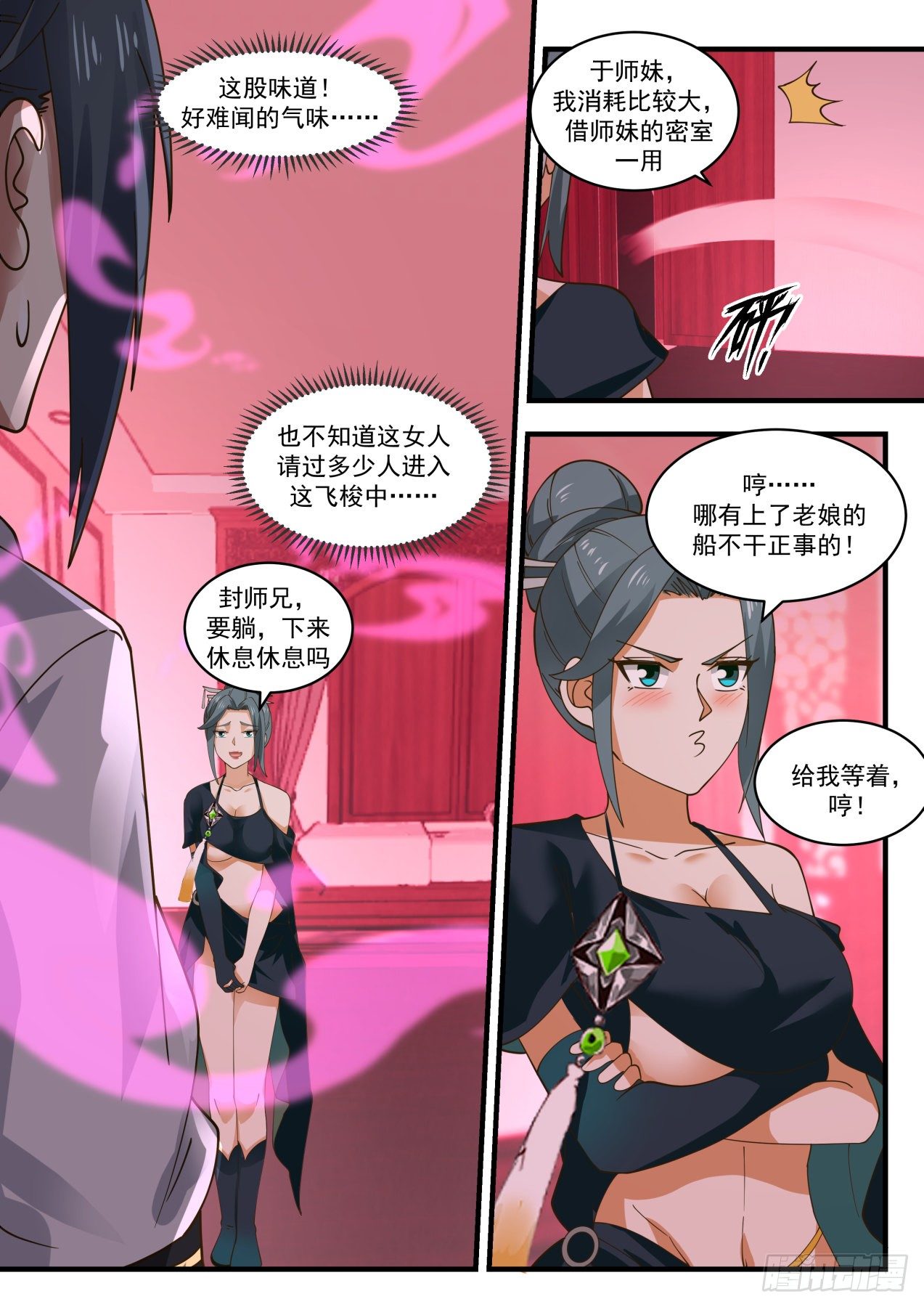 Yu Junior Sister, I consume a lot of money, so I can use it in Junior Sister's secret room.

This taste! very unpleasant smell

I don't know how many people this woman has invited into this shuttle…

Stop… How can anyone get on my mother's boat and do nothing serious!

Senior Brother Feng, do you want to lie down and rest?

Wait for me, hum!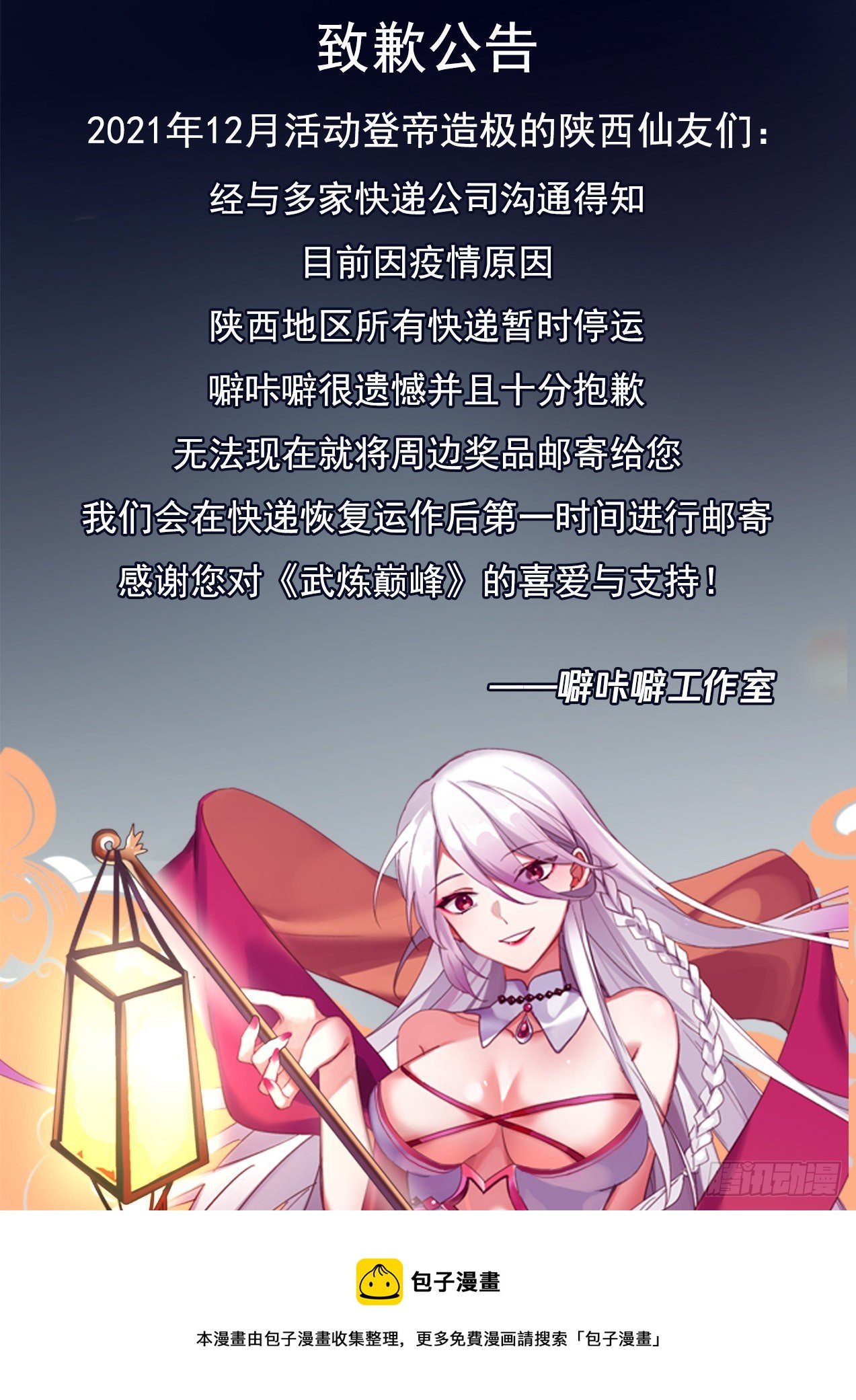 Apology announcement

In December 2021, the Shaanxi immortal friends who will reach the emperor's pole:

After communicating with a number of courier companies, we learned that

Currently due to the epidemic

All couriers in Shaanxi are temporarily out of service. It is very shocking and very embarrassing. I can't mail the surrounding prizes to you now.

We will post it as soon as possible after the courier resumes operation. Thank you for your love and support for "Wu Lian Pinnacle"!

One Ka studio

Steamed Bun

This comic is collected and organized by Bao Ziman. For more free comics, please search for "Bao Ziman"