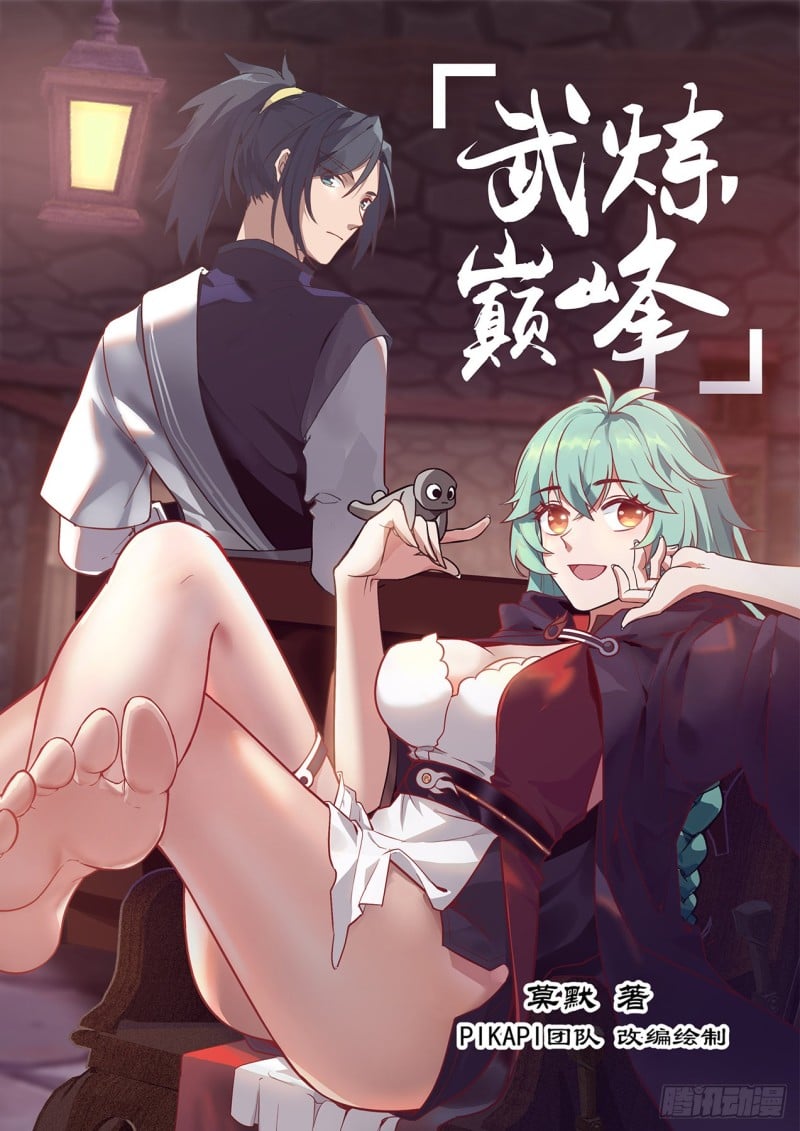 writing

Adapted and drawn by the PIKAPI team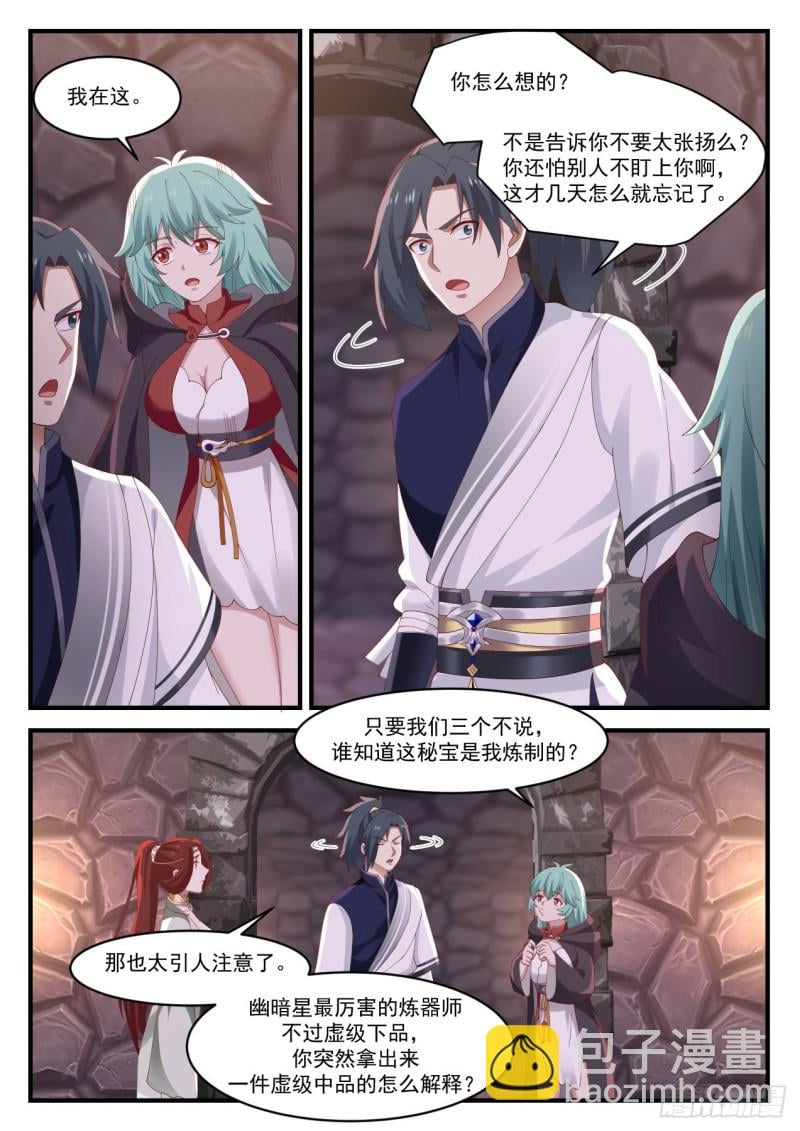 what do you think? Didn't I tell you not to be too public? You're still afraid that others won't get on you, why did you forget it in just a few days

I'm here.

As long as the three of us don't talk about it, who knows that this secret treasure was made by me?

That's too catchy.

Gloom Star's most powerful artifact refiner is only a low-grade virtual rank. How do you explain that you suddenly took out a middle-grade virtual item?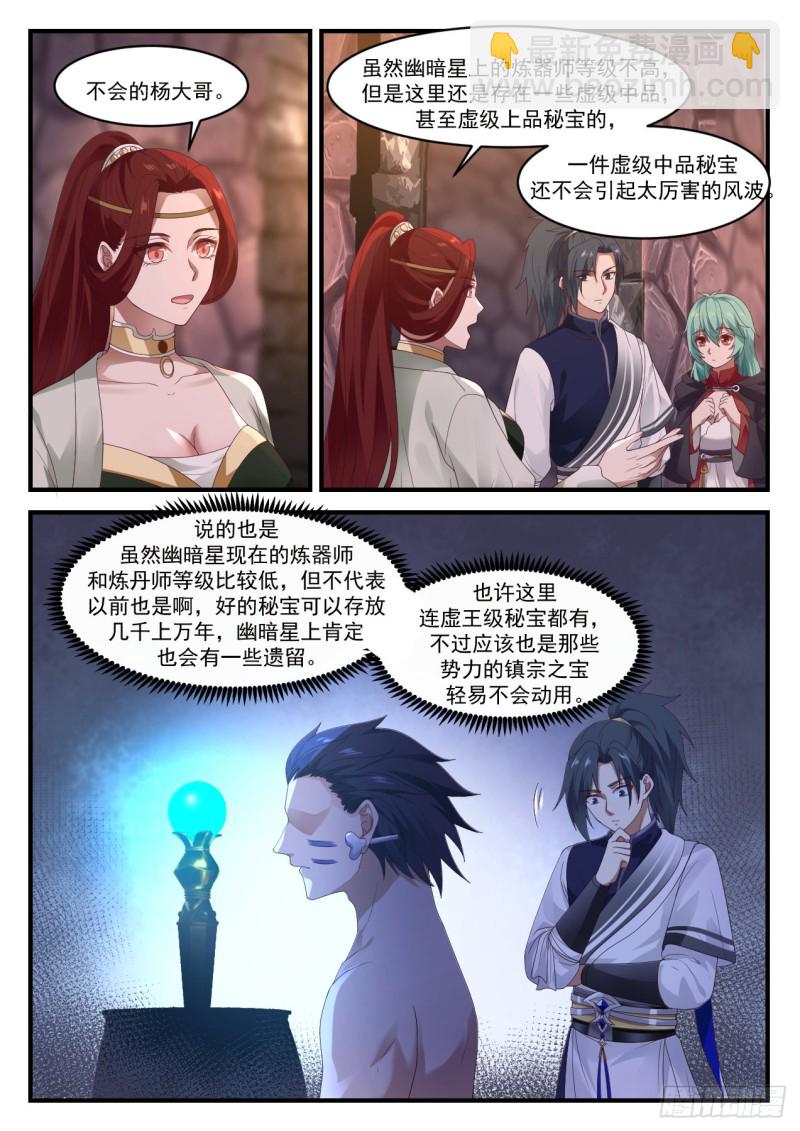 Although the level of the refiners on the dark star is not high, there are still some virtual-level middle-level and even virtual-level high-level secret treasures here.

No big brother Yang.

A mid-grade virtual treasure won't cause too much turmoil

It is also said that although the current level of alchemists and alchemists in the dark star is relatively low, it does not mean that it was the same in the past. Good secret treasures can be stored for thousands of years, and there will definitely be some leftovers on the dark star.

Maybe there are even virtual king-level secret treasures here, but it should be the treasures of the sects of those forces that will not be easily used.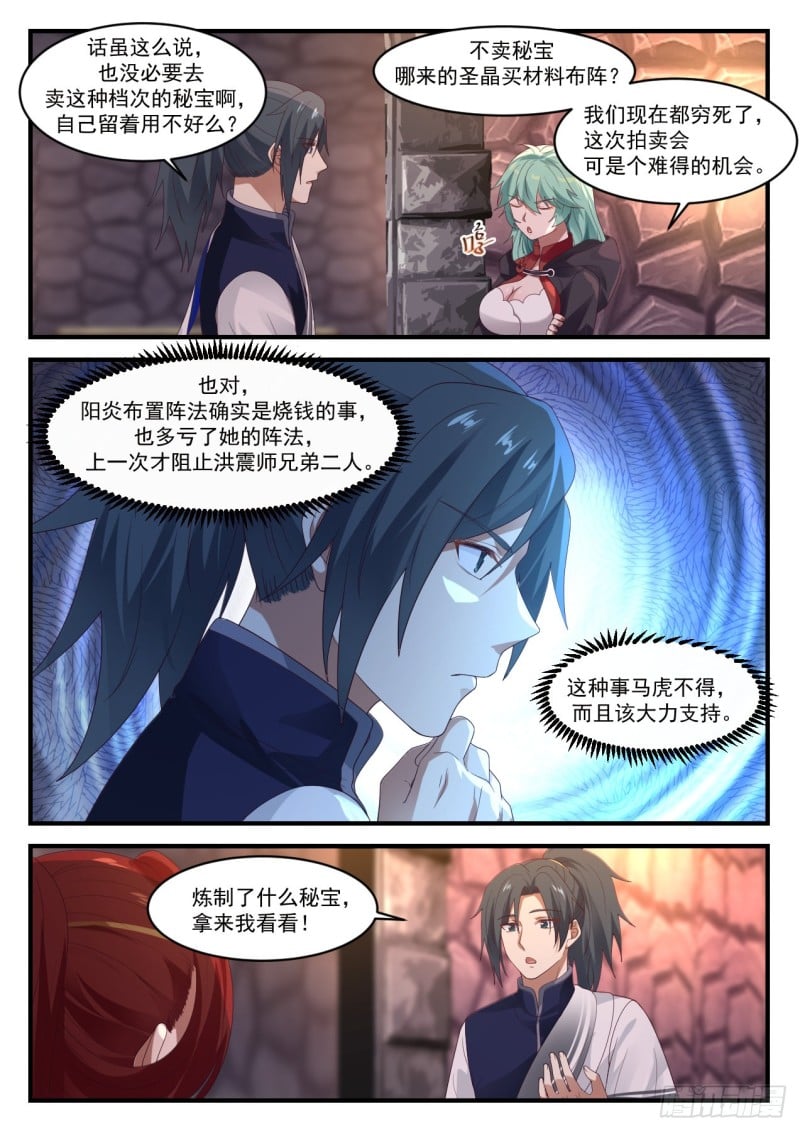 That being said, there's no need to sell this grade of secret treasure, isn't it good to keep it for yourself?

If you don't sell secret treasures, where can you get the holy crystal to buy materials for the formation?

We are all poor now, and this auction is a rare opportunity.

That's right, thanks to her formation, I stopped Senior Brother Hong Zhen once.

Yang Yan's arrangement of the formation is indeed a matter of burning money.

This kind of thing should not be sloppy, and should be strongly supported.

What secret treasure has been refined, bring it to me to see!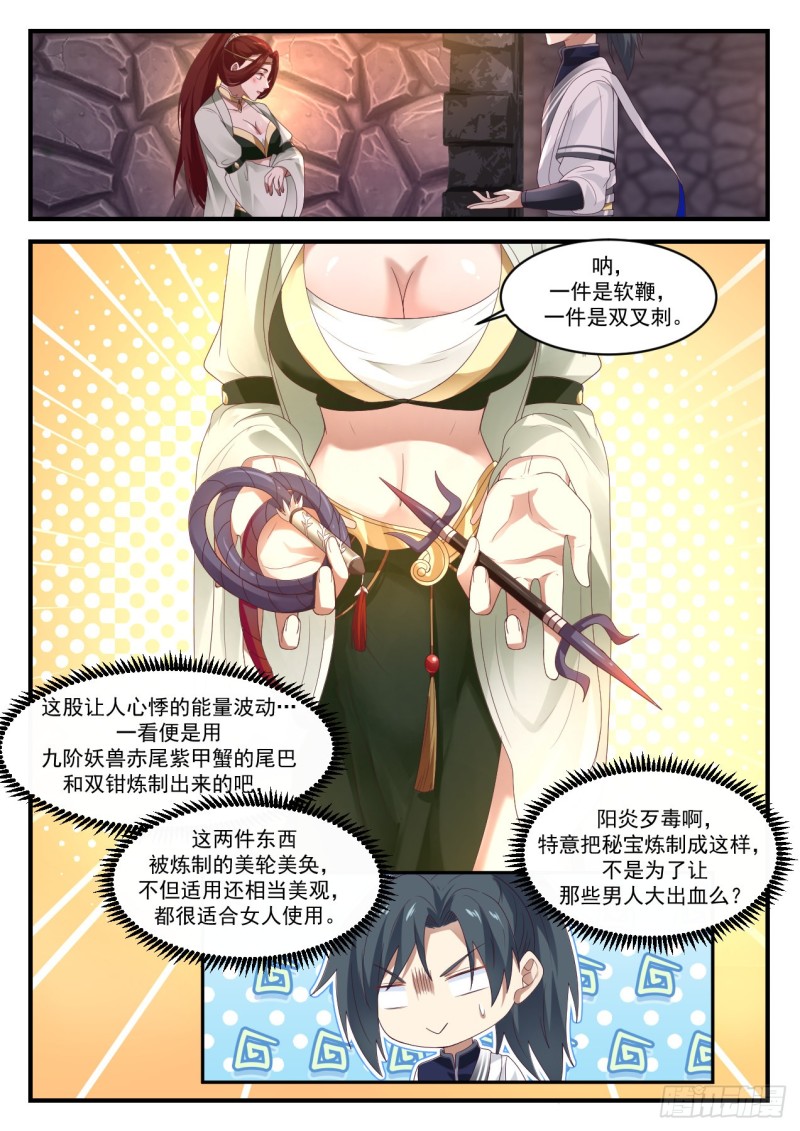 Now, one's a soft whip, one's a two-pronged thorn.

This heart-pounding energy fluctuation is made from the tail and double pincers of the ninth-order monster red-tailed purple armored crab.

Yang Yan friend poison, deliberately refining the secret treasure like this, isn't it to make those men bleed?

These two things have been refined from the United States to the United States, not only suitable for use, but also quite beautiful and suitable for women to use.

Can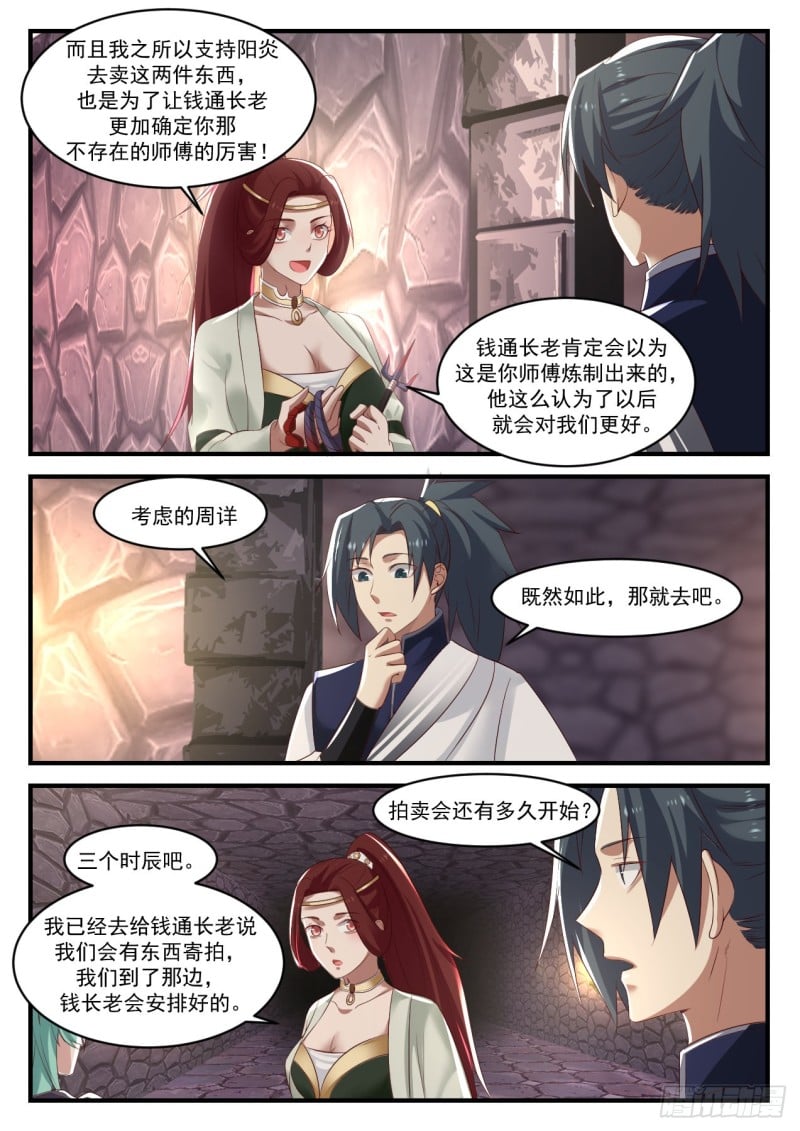 而且我之所以支持阳炎去卖这两件东西,也是为了让钱通长老更加确定你那不存在的师傅的厉害!

钱通长老肯定会以为这是你师傅炼制出来的,他这么认为了以后就会对我们更好。

考虑的周详

既然如此,那就去吧。

拍卖会还有多久开始?

个时辰吧。我已经去给钱通长老说我们会有东西寄拍,我们到了那边,钱长老会安排好的。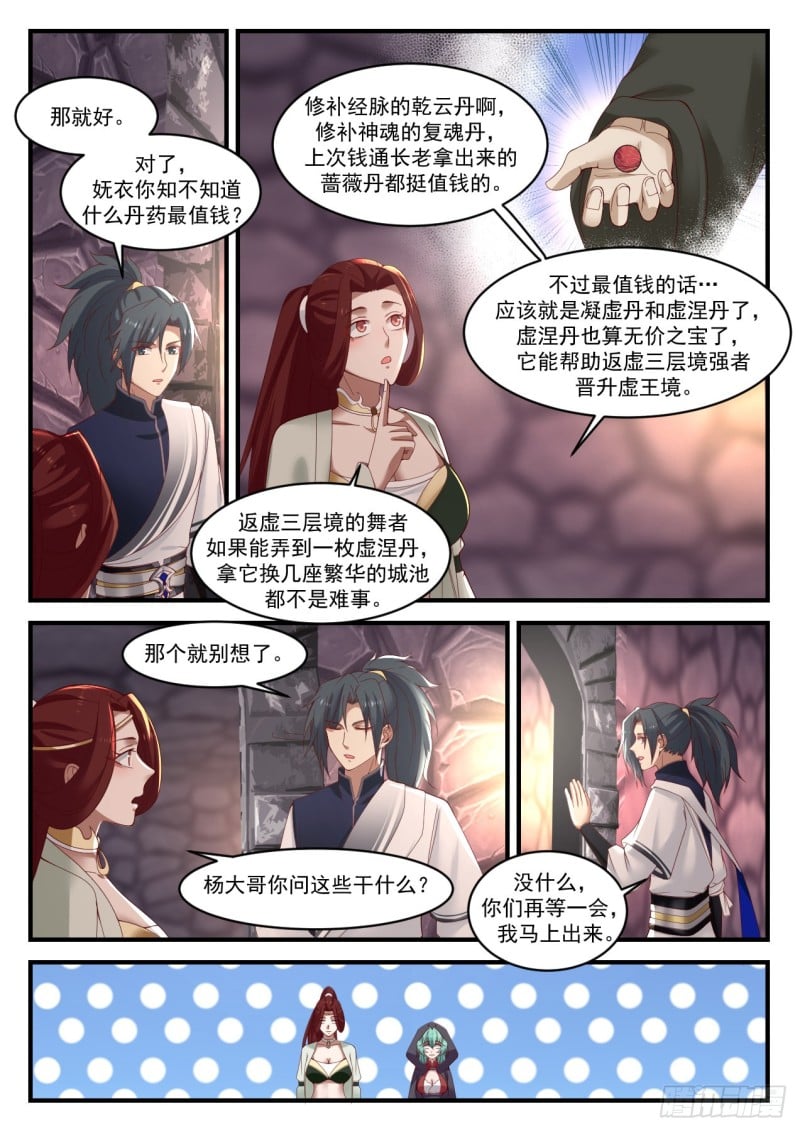 那就好。对了,妖衣你知不知道什么丹药最值钱?

修补经脉的乾云丹啊,修补神魂的复魂丹,上次钱通长老拿出来的蔷微丹都挺值钱的,

不过最值钱的话…·应该就是凝虚丹和虚涅丹了,虚涅丹也算无价之宝了,它能帮助返虚三层境强者晋升虚王境。

返虚三层境的舞者如果能弄到一枚虚涅丹,拿它换几座繁华的城池都不是难事

那个就别想了。

杨大哥你问这些干什么?

没什么,你们再等一会,我马上出来,

走吧。

应该没人会来龙穴山找我麻烦了我也可以安心地离开

让妖衣和阳炎带两件虚级秘宝去参加拍卖会我也不太放心,还是过去保驾护航吧。

这两件虚级下品秘宝的话:应该能买二三十万吧?卖掉这两件秘宝就可以大肆采购材料来布置阵法了。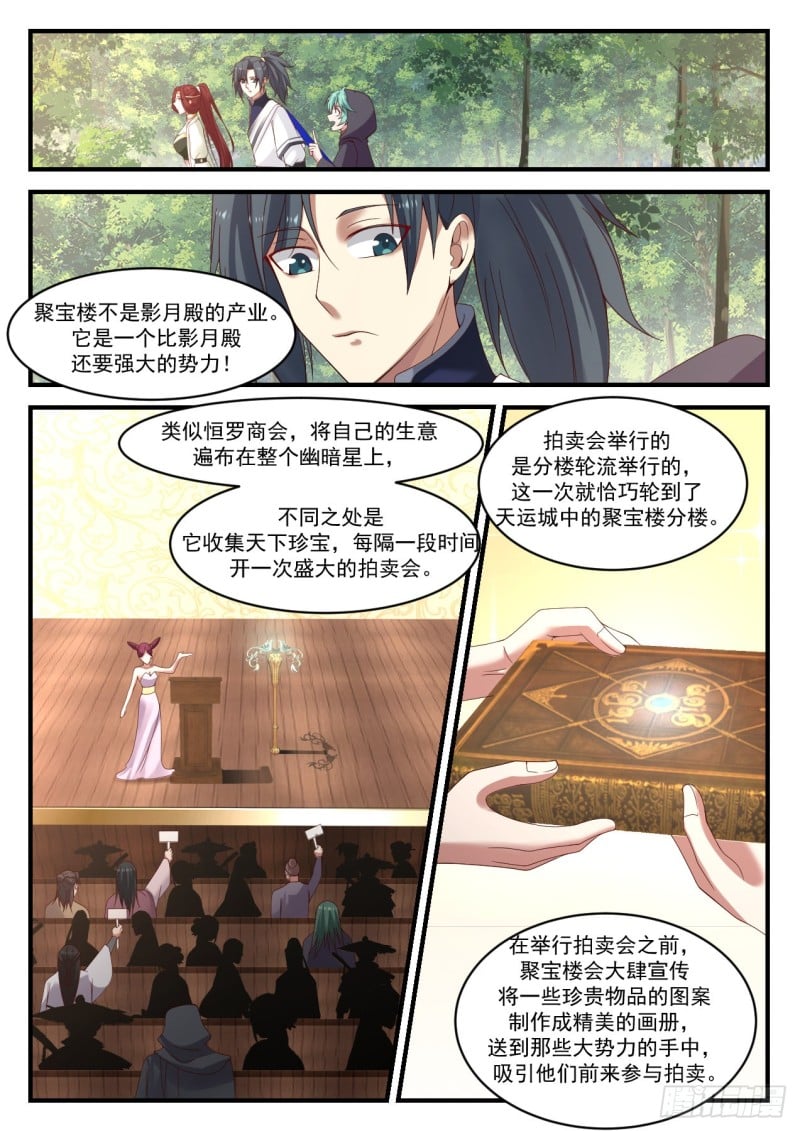 聚宝楼不是影月殿的产业。它是一个比影月殿还要强大的势力!

类似恒罗商会,将自己的生意遍布在整个幽暗星上,不同之处是它收集天下珍宝,每隔一段时间开一次盛大的拍卖会。

拍卖会举行的是分楼轮流举行的,这一次就恰巧轮到了天运城中的聚宝楼分楼。

在举行拍卖会之前,聚宝楼会大肆宣传将一些珍贵物品的图案制作成精美的画册送到那些大势力的手中,吸引他们前来参与拍卖。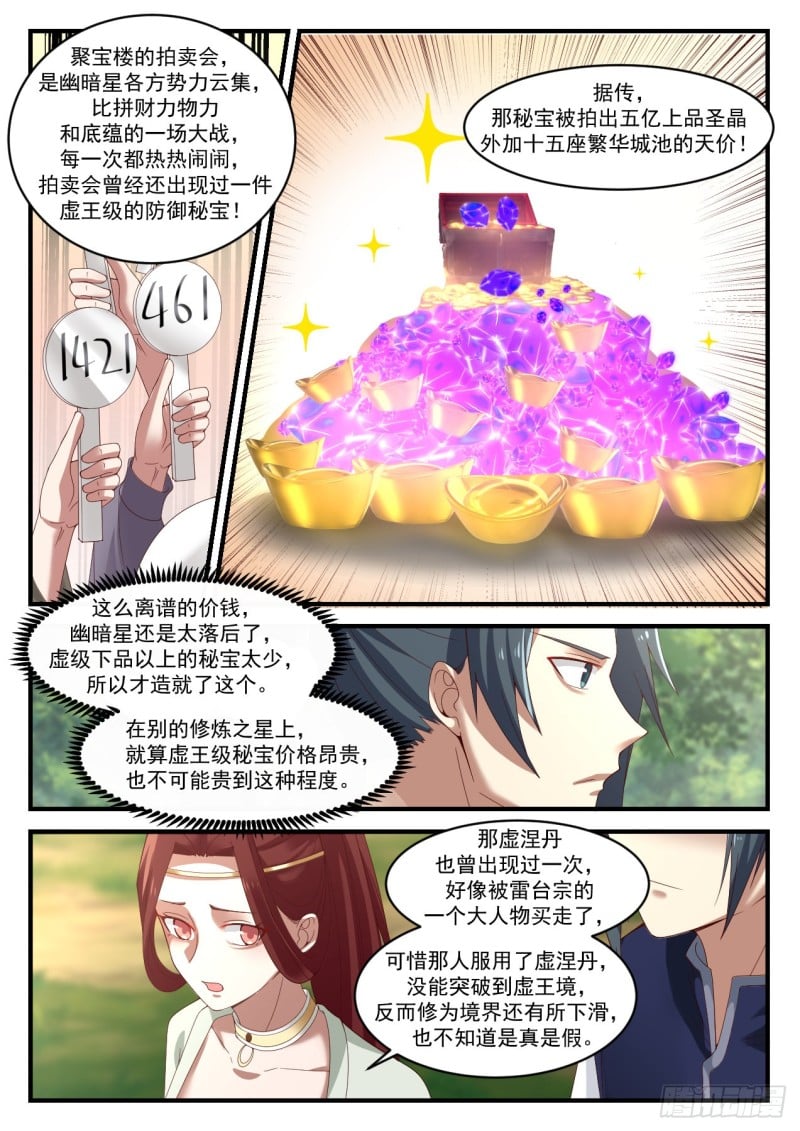 聚宝楼的拍卖会,是幽暗星各方势力云集,比拼财力物力和底蕴的一场大战每一次都热热闹闹,拍卖会曾经还出现过一件虚王级的防御秘宝!461亿hl

据传,

那秘宝被拍出五亿上品圣晶外加十五座繁华城池的天价!

这么离谱的价钱,幽暗星还是太落后了,虚级下品以上的秘宝太少,所以才造就了这个。在别的修炼之星上,就算虚王级秘宝价格昂贵,也不可能贵到这种程度。

The Void Pill also appeared once. It seems that it was bought by a big man of Lei Taizong. Unfortunately, that person took Void Pill and failed to break through to the Void King Realm. Instead, the cultivation realm has declined. I don't know if it is. True or false.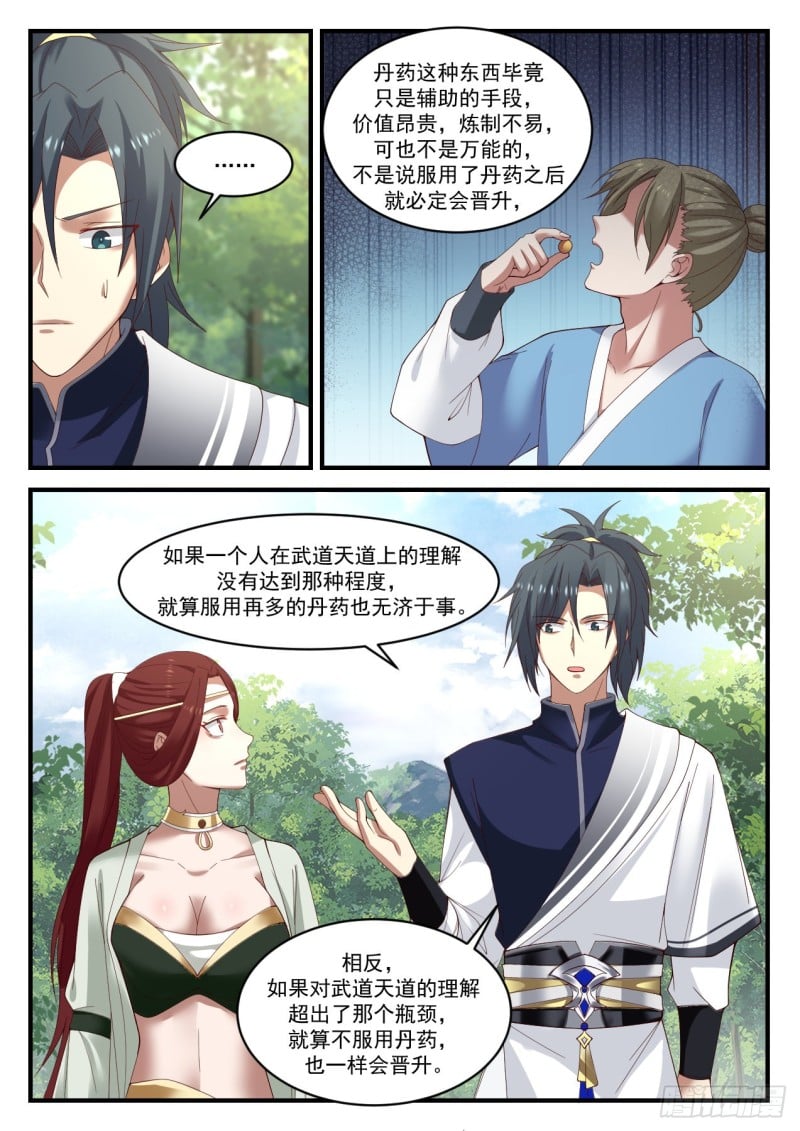 After all, medicine pills are only auxiliary means. They are expensive and difficult to refine, but they are not omnipotent. It does not mean that after taking medicine pills, they will be promoted.

If a person's understanding of Martial Arts and Heavenly Dao does not reach that level, no matter how many medicinal pills are taken, it will not help.

On the contrary, if the understanding of Martial Dao and Heavenly Dao goes beyond that bottleneck, even if you don't take the medicine pill, you will still be promoted.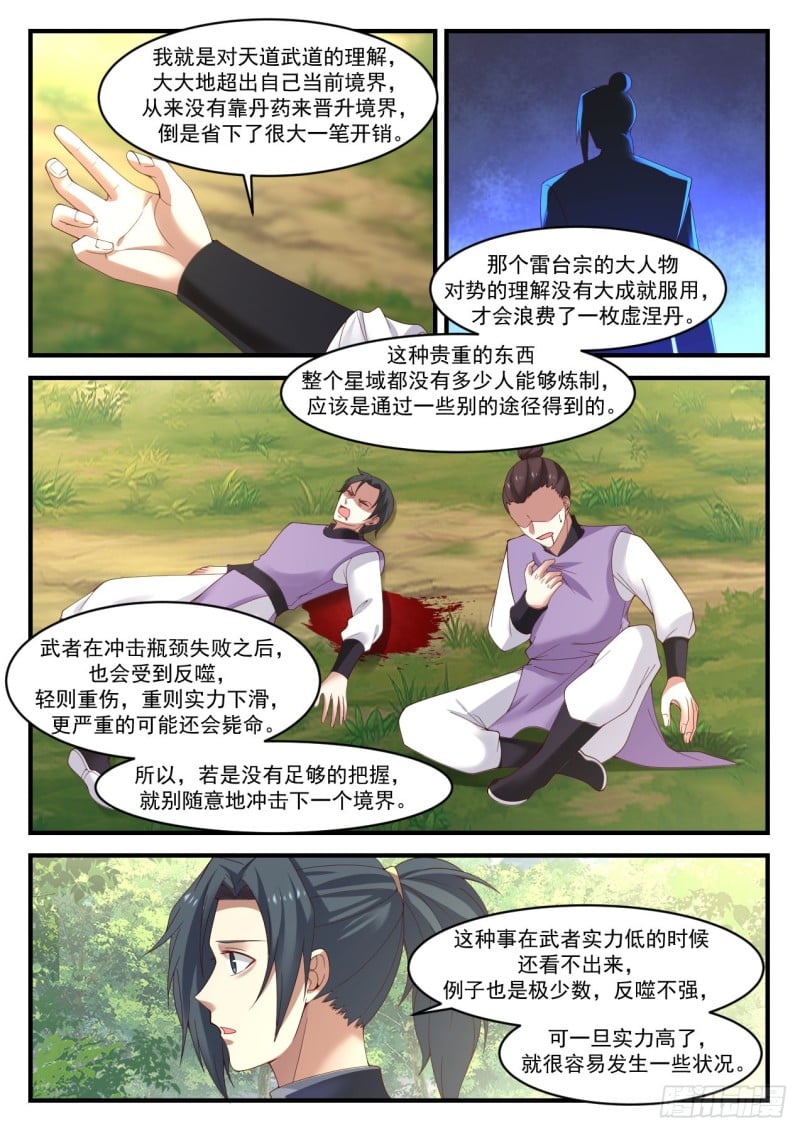 My understanding of Heavenly Dao and Martial Dao is far beyond my current realm. I have never relied on medicinal pills to advance my realm, but I have saved a lot of expenses.

The big man of Lei Taizong did not have a great understanding of the situation, and he wasted a valuable thing like a virtual nirvana. Not many people in the entire star field can refine it, it should be obtained through some other means.

After the martial artist fails to hit the bottleneck, he will also suffer from backlash, which can range from serious injuries to severe declines in strength, and even more serious deaths. So, if you don't have enough confidence, don't hit the next realm at will.

This kind of thing can't be seen when the martial artist's strength is low, and there are very few examples. If the backlash is not strong, some situations can easily occur.

But once the strength is high,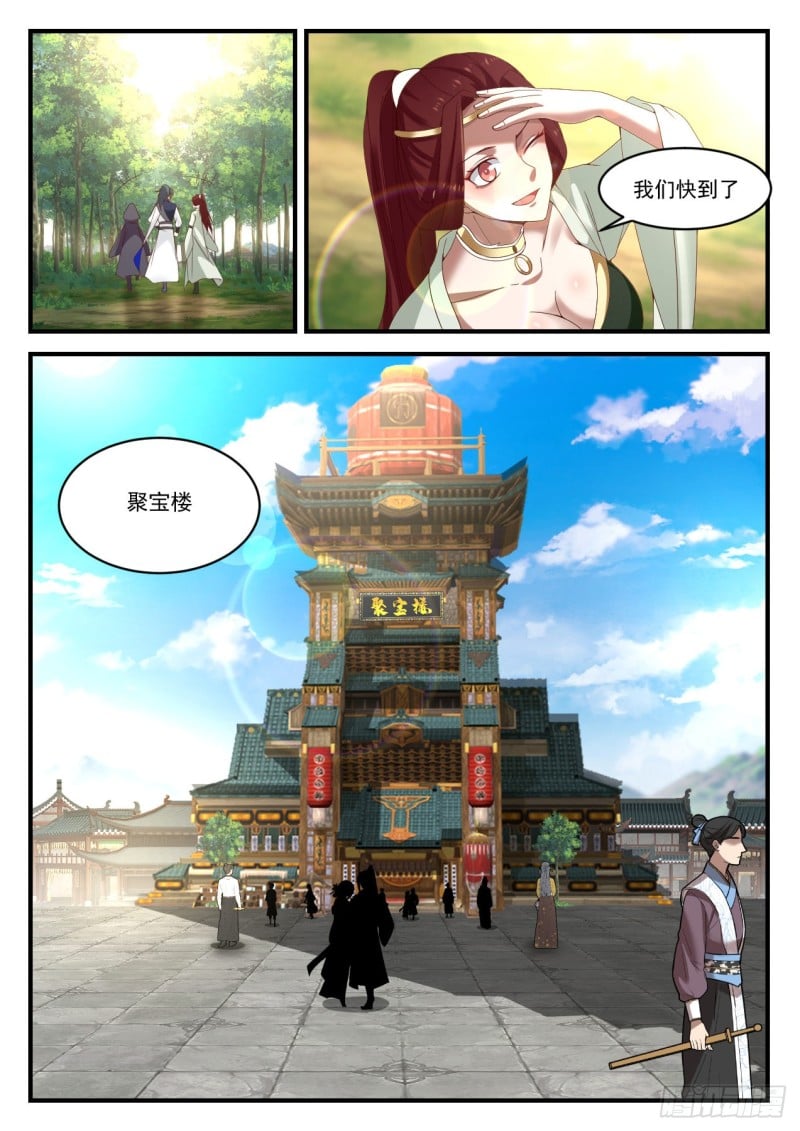 we are almost there

Jubaolou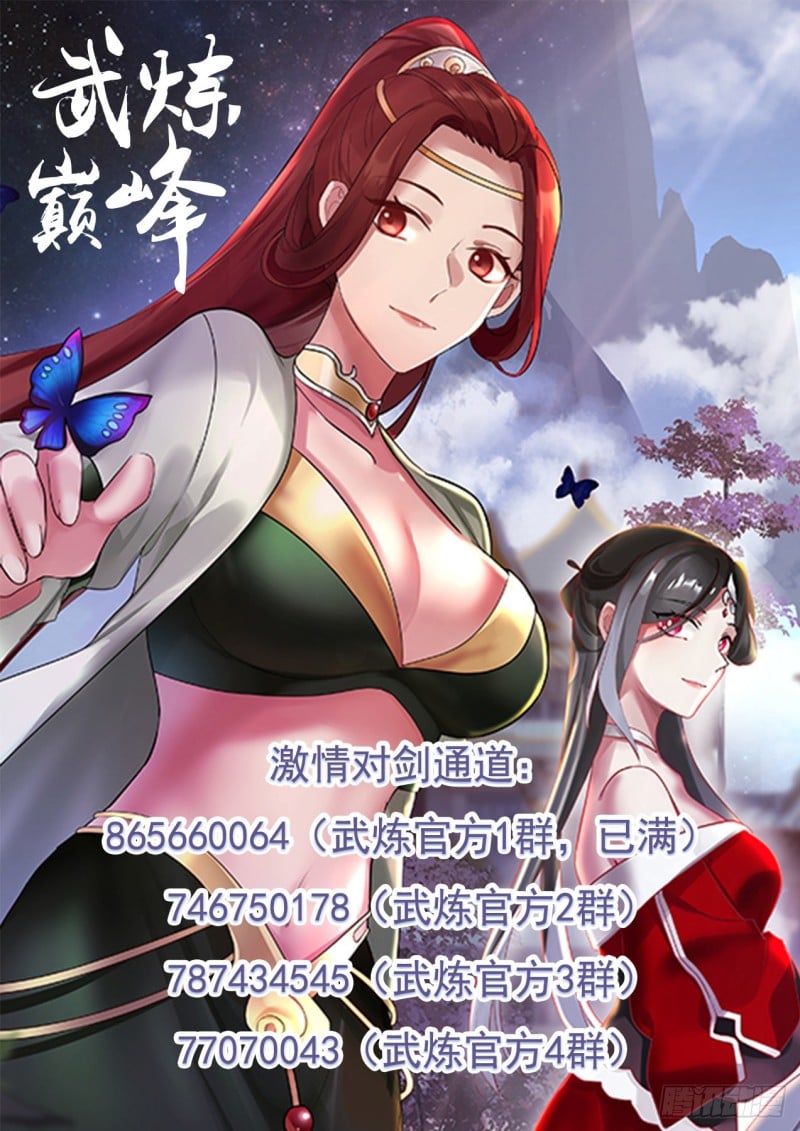 Wuyao Binfeng

Passion to Sword Channel:

865660064 (Wu Lian Official Group 1, full) 746750178 Wu Lian Official Group 2) 787434545 Wu Lian Official Group 3) 77070043 (

(Wu Lian Official Group 4)